DR FRANCIS TUMBLETY
An American Suspect
A very famous more recent suspect for the mantle of having been Jack the Ripper is the American quack doctor Francis Tumblety.
In 1993, crime historian Stewart P. Evans purchased a batch of correspondence that had belonged to the journalist George Sims.
Amongst the papers was a letter written in 1913 by Chief Inspector John Littlechild, who at the time of the Jack the Ripper crimes had been head of the Metropolitan Police's Secret Department.
HAD HE HEARD OF DR D?
Littlechild was responding to an enquiry from Sims asking if he had heard of a Dr. D. (evidently a reference to M. J. Druitt) in connection with the Whitechapel murders.
Littlechild replied that, although he had never heard of a Dr D, "…amongst the suspects, and to my mind a very likely one, was a Dr T [who] was an American quack named Tumblety."
According to Littlechild, Tumblety:-
"was arrested in connection with unnatural offences [Dr Francis Tumblety was charged with acts of gross indecency with a number of males on 7th November 1888] remanded on bail [he] jumped bail, and got away to Boulogne. He shortly left Boulogne and was never heard of afterwards. It was believed he committed suicide but certain it is that from that time the 'Ripper' murders came to an end."
A PROMISING SUSPECT
At first glance Tumblety is another promising suspect. His arrest and subsequent suicide would explain the sudden cessation of the murders. However, on closer inspection the case against him becomes incredibly flimsy.
INVOLVED IN THE WHITECHAPEL MURDERS
But, contrary to Littlechild's assertion that he was "never heard of" after leaving Boulogne, Tumblety did, in fact, sail for New York where the American press were soon reporting his possible involvement in the Whitechapel murders.
UNDER SURVEILLANCE
From the moment he arrived he was kept under surveillance by Chief Inspector Byrnes of the New York Police.
Byrnes is on record as saying that '"here is no proof of his [Tumblety's] complicity in the Whitechapel murders, and the crime for which he was under bond in London is not extraditable."
Byrnes appears to have doubted Tumblety's guilt and he even, according to the New York Times, "…laughed at the suggestion that he was the Whitechapel murderer…"
HE COLLECTED MEDICAL SPECIMENS
A claim made by those who favour Tumblety as a suspect is that he collected medical specimens, including uteri.
However, there is no proof of this.
The allegation that he did was contained in an account given by Col. C. S. Dunham to the Williamsport Sunday Grit in which he told of attending a dinner at which Tumblety had "fiercely denounced all women and especially fallen women."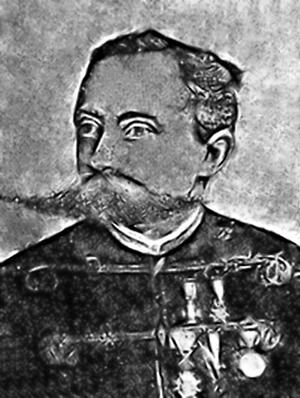 According to Dunham, Tumblety then took his guests to his office where he showed them a dozen or more jars containing the uteri of every class of women.
It should, however, be noted that Dunham's veracity is, to say the least, questionable. He was a known confidence trickster, who only made his claims after press allegations had linked Tumblety to the Whitechapel Murders.
There is, therefore, a distinct possibility that he invented the story to cash in on Tumblety's sudden notoriety. Another oft quoted piece of evidence against Tumblety is that people who knew him thought he was the killer. Again this is mere hearsay. Some of them might have thought so, but others were adamant that he wasn't.
A PERFECT GENTLEMAN
His New York landlady Mrs. McNamara, for example, was quoted in the New York Herald as saying that "Dr. Tumblety…is a perfect gentleman. He wouldn't hurt anybody."
The case for Tumblety's having been Jack the Ripper is not a strong one.
NO EVIDENCE THAT HE VISITED WHITECHAPEL
There is no concrete evidence that he ever visited Whitechapel and he bore no resemblance to any of the descriptions given by witnesses who may have seen the killer.
NO EVIDENCE HE WAS VIOLENT
There is no evidence that he was ever violent and, in this respect, even Littlechild appears to have doubted him as a suspect since he states in his letter to Sims that Tumblety was "not known as a "Sadist" (which the murderer unquestionably was)."
WOULD HE HAVE BEEN BAILED?
Furthermore, had the police thought him responsible for the murders it seems highly unlikely that they would have released him on bail.
Even if they had, his whereabouts were known to their New York counterparts who could have arrested and extradited him.
The reason this wasn't done has to have been that he had been ruled out of any involvement in the crimes.