There was a huge amount of interest in the Victorian newspapers – and, presumably, therefore, amongst the public who read those newspapers – in the more sordid and squalid aspects of the Victorian East End.
In the 19th century, London's China Town was located in the East End of London, close by the docks, and it was a district that was notorious for its opium dens.
Writers such as Charles Dickens and, later, Arthur Conan Doyle, saw the potential for basing their stories around these places of ill-repute, and, in consequence, the opium dens became places of fascination for Victorians who, in reality, would probably never set a foot over the thresholds of these establishments, not, for that matter, in the area in which they were located.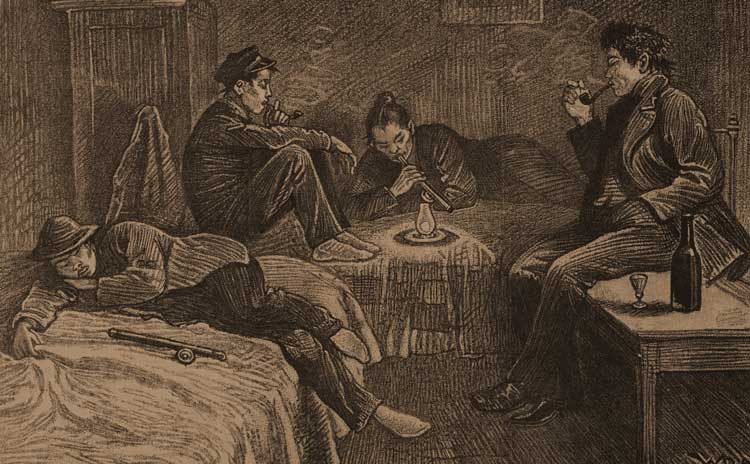 THE EAST END OPIUM DENS
However, just like the enclaves of Whitechapel and Spitalfields where the Jack the Ripper murders occurred, not venturing into these places did not equate with not being fascinated by them, and, in consequence, journalists made many a foray out to the district beyond Shadwell in order to report back on what it was like in these sordid, squalid places.
The Graphic, on Saturday, 4th May, 1889, published the following article, which took readers over the threshold of one of the East End's opium dens, before taking them around the district to show just how many of these establishments were located there:-
A NIGHT IN THE OPIUM DENS
"Even those who have assiduously "slummed " in the East End would for the most part be extremely puzzled to answer if asked where lay the Chinese Quarter of our great city.
But it has one, which is as distinctive as the Jewish colonies between Whitechapel and Stepney, the organ-grinders at Saffron Hill, the artists of St. John's Wood, the laundresses of Latimer Road, or the students' Quartier Latin round Russell Square.
LONDON'S VICTORIAN CHINA TOWN
It is to be found in a little street that runs off the West India Dock Road, and when this is entered we are transported from London to China Town, and instead of being jostled by an ordinary Cockney crowd, we rub shoulders with a motley throng from the Flowery Land.
The majority are sailors, or connected with the shipping traffic. They wear their loose, baggy trousers, but over their upper garments are often worn common great-coats, jerseys, shawls even, and gorgeous mufflers.
Over the shop doors of this strange street the names appear in the orthography of the Celestial Empire. Ah Wang, instead of calling attention in the vernacular to his "unprecedented " or "marvellous " black teas at 1s. 5d. a pound, does so in the characters that read in the reverse fashion, and appear so hopelessly illegible.
But his shop is really the least part of his business. True, it contains the heterogeneous variety popularly associated with the village shop, from bloaters to cheap jewellery, from cheese to gaily-coloured prints, from slippers to pork pies, rice, tea, preserved ginger, coats, and books.
A SQUALID, DIRTY CHAMBER
There is a door at the end which in an ordinary shop would lead into that peculiar room known as the " back parlour." Here it leads into a squalid, dirty chamber over which hovers the sickly, fetid smell of stale opium.
Pass in. No one will hinder you, unless you look like a member of the police force or a journalist taking sensation notes.
It is stiflingly hot and oppressively close.
When the first inclination to cough and turn back has passed off you will find that a chair is offered you, for Chinese politeness forbids that you should sit down till you are told to, and the first duty of a well-mannered Chinese host is to give you something upon which to sit.
A CUP OF TEA
Then he will probably give you such a cup of tea as you will taste nowhere else in London. In a very small cup, you will have presented to you a liquor suggestive in colour of the palest sherry, and devoid of such extraneous adjuncts as milk and sugar. Possibly the first impressions regarding it will be "what weak, washy-looking stuff." But taste it! An indescribable scent of fresh cowslips, a delicate flavour of orange-blossoms, and the realisation that black lead and other "colouring materials" do not add to the refinement of English tea!
I met a Celestial gentleman in one of these dens, clad in the ultimate perfection of East End tailoring, and wearing an extravagant quantity of jewellery, which, however, was "real" in the sense of being genuine gold and precious stones, though the taste of its arrangement was open to criticism, and he told me first of his strange vocation in life, which was to go round to the provincial agents of a large cheap tea house, and, in his native costume, to expatiate upon the beauties and unadulseration of Smith, Brown, and Snook's articles in packets. "But," he added, "here in England, you no sale for tea not painted. Paint make tea black. Tea not good because black; black not sign tea good."
The keepers of these shops are well aware that their Chinese customers know what good tea is, and so get it brought over by friendly hands and unpainted.
THE SURROUNDINGS
As you sip your tea, you may look round and take stock of the queer surroundings in which you find yourself.
The furniture consists of nothing but old-fashioned wooden or iron truckle bed- steads, upon which are loathsome mattresses and pillows.
Some of them have also a dirty rug or blanket, and upon these uninviting couches lie Chinamen in every stage of the intoxication wrought of the baleful drug.
SMOKING THE OPIUM
It requires a little dexterity to smoke it well.
The opium is purchased in a state more nearly resembling thick, coarse treacle than anything else, and a small quantity of this is placed upon a knob of wood, with a hole through it, upon a pipe.
It is then held inverted over the flame of a grimy lamp, and long breaths are slowly taken.
A sense of ecstatic enjoyment gradually creeps over the coarse sensual features; another and another pipe is inhaled, and the smoker presently lays down his implements to see visions of his darling enjoyments, and to plunge into a land of something more than dreams.
Over two men in one of these dirty holes, deadly drunk with the opium they had taken, the calm, grave, pure features of Charles Gordon gazed down in, it seemed to me, wondering irony.
THE ACCOMMODATION
In one or two of the "dens" the accommodation is arranged like the berths of a ship, and some foul curtains are hung round them.
The risk of fire is great here, for if one of the lamps was to be upset in the smoke-dried inclosure, a horrible death would be inevitable.
FOUR ENGLISHWOMEN
I saw no Englishman in any of the houses I visited; but with sadness and sorrow I write that I noticed four Englishwomen there.
One of these women was young, and decidedly pleasing in appearance, despite a wandering, nervous look in her eyes, and the dry yellow appearance of her skin, which told of her passion for the too-fascinating pipe.
A SAD STORY
A few kind words drew from her a sad story.
She was the wife of the Chinese keeper of the "den," and, at first, she had a horror of touching it.
But she was bullied and cajoled into trying it, and, of course, fell a victim to it at once.
She realised the irreparable physical and moral harm she was doing to herself, and, with a most commendable fortitude, went away into the country where she could not possibly get any.
For three weeks she endured all the intensity of suffering that a sudden abstinence from it produces.
Then, after the numb stage of indifference, came that of distaste, and, believing herself fully cured, she returned.
With infinite pathos she told how it was like sending a reformed drunkard into a public-house, and how the mad desire for it again seized her.
She says she is trying, by lessened doses, to cure herself, but one cannot help feeling that her position, surrounded with it, must make it a frightfully difficult task.
EAST END OPIUM DENS
There are not less than seven opium-dens in this one little street alone.
At a very short distance from it stands an eighth, and a ninth, also near, is kept by an Italian woman, herself an inveterate smoker but is more exclusively patronised by Lascars.
GAMBLING GOES ON
Gambling is also largely carried on in these houses, and I saw some exciting games, somewhat resembling dominoes, going on.
The players were seated upon large, breast-high tables, covered with rush mats, and small copper Chinese money was circulating very freely.
In one instance the excitement had reached an acute stage, and oaths and execrations were freely bandied.
CHARLES DICKENS EDWIN DROOD
Since Dickens visited the largest of these houses, situated in Ratcliffe Highway, an idea has arisen that there was only one in London.
The place he described in "Edwin Drood" was kept by an old man called Johnson, who claims that the Prince of Wales has been within his walls, but it has very recently been removed to make way for railway extension."