On 22nd September 1888, Punch magazine published a cartoon that depicted a blindfolded police officer surrounded by a group of ne'er-do-well villains.
Entitled "Blind-Man's Buff" the cartoon has been reproduced many times since in various tomes on the Jack the Ripper murders.
The verse that accompanied the cartoon seldom gets reprinted, which is a great pity because, in Punch's inimitable style it really does draw attention to both the police inadequacies, when it came to hunting down a killer as resourceful as the Whitechapel Murderer, and the social conditions against which the saga of the crimes was being played out in 1888.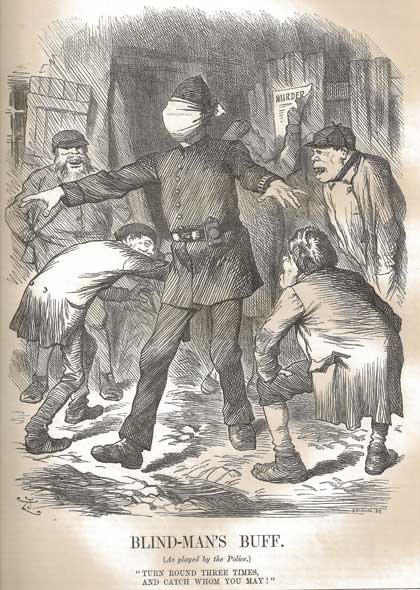 The verse that accompanied it included the following lines:-
The haggard harpy of the pavement, she 
The victim's victim, whose delirious glee
Makes mirth of crackling horror; hither slink
The waifs of passion and the wrecks of drink.
Multiform wretchedness in rags and grime;
Hopeless of good and ripe for every crime;
A seething mass of misery and vice,
These grim but secret-guarding haunts entice.
Look at those walls; they reek with dirt and damp,
But in their shadows crouched the homeless tramp
May huddle undisturbed the black night through.
Those narrow winding courts – in thought – pursue.
No light there breaks upon the bludgeoned wife,
No flash of day arrests the lifted knife,
There shrieks arouse not, nor do groans affright,
These are but normal noises of the night.
There can be few accounts of the social conditions in the districts of Spitalfields and Whitechapel that paint such a vivid, and stomach-churning- picture of the horrendous backcloth against which the Jack the Ripper murders were being played out.
As such, it should be mandatory that anyone who reproduces the image, should also reproduce at least some of the accompanying verse!