SWALLOW GARDENS – ROYAL MINT STREET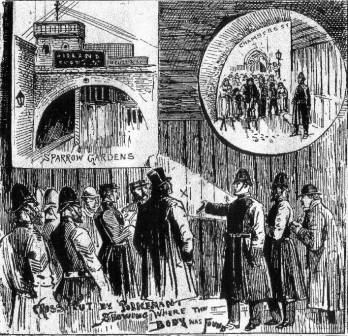 Swallow Gardens, situated just a stone's throw away from the Tower of London, was in 1888 little more than an alleyway running under a railway arch. It was here on 13 February 1891 that Frances Coles was found murdered, becoming the final victim of what we now know as the Whitechapel Murders. 
BOOK A JACK THE RIPPER TOUR WITH US TODAY
What happened at Swallow Gardens in relation to the Jack the Ripper crimes?
The body of Frances Coles was discovered at 2.15am on 13 November 1891 by a police constable named Ernest Thompson. As he passed through the archway of the Great Eastern Railway that led from Swallow Gardens to Orman Street, he heard a man's footsteps walking away from him. Shining his lamp into the archway, he saw the prone figure of a woman lying in a pool of blood with a terrible wound to her throat that went from ear to ear.
On examining the body, Dr George Philips, the police surgeon, did not believe the crime was connected to the Ripper murders of 1888. However, given the similarities between the crimes, it was inevitable that the press would link this attack to the unsolved murder spree of the so-called Jack the Ripper. A year after Frances Coles death, the Whitechapel Murders file was closed and to this day the crimes remain unsolved.
Where is Swallow Gardens?
E1 8LG
Swallow Gardens was a thoroughfare running east to west between Leman Street and Mansell Street in Whitechapel in the London Borough of Tower Hamlets. The closest station to the site of Swallow Gardens is Tower Gateway on the DLR, which is about a 5-minute walk to the south-west.
Attractions near the site of Swallow Gardens include the newly built Curzon Aldgate, a cinema complete with leather sofas, reclining seats and bars in three of the four screens. The historic Wilton's Music Hall is also just a 2-minute walk, while the Tower of London, which has a history just as gruesome as the Whitechapel Murders, is 7 minutes away.
What is Swallow Gardens in the present day?
The site of Swallow Gardens can still be visited to this day, although all you'll see is a blocked railway archway which is now used as a lockup.
How has Swallow Gardens changed since 1888?
Once upon an age, Swallow Gardens was situated amidst gardens or an orchard; however, by the mid-18th century, small properties had begun to encroach on the area. The creation of the London Blackwall Railway, which was opened in 1840, also changed the area drastically and Swallow Gardens became little more than an alleyway running under railway arches.