Jack The Ripper Walk Highlights
All this and more awaits you…
The historic old building where, a major suspect worked as a barber in the basement
You will see the actual doorway on which Jack the Ripper may have scrawled a sinister message
The dark and sinister alleyway along which the lady who many believe was Jack the Ripper's victim walked with her killer in the early hours of 8th August 1888
The pub where Mary Nichols drank away her "doss" money shortly before her body was discovered nearby in the early hours of 31st August 1888
A warren of atmospheric old streets that have hardly changed since they formed the backcloth against which the Jack the Ripper saga was played out
You will learn of the terrible aftermath of the murder of the second of Jack the Ripper's victims, Annie Chapman, when one newspaper was forced to lament that "there may soon be murders from panic to add to murders from a lust for blood."
The soaring church tower that dominates its surroundings today just as it dominated its surroundings in 1888 when each one of Jack the Ripper's victims would have looked up at it on a daily basis
The pub in which the victims tried to forget the waking nightmare, perhaps even under the evil gaze of the ripper himself
The former convent where the ripper's last victim desperately sought shelter shortly before she was murdered in the street opposite
The doorway where Jack the Ripper's

only

clue was discovered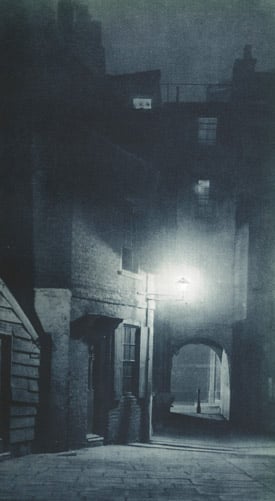 Allow us to set the scene…
It is the autumn of 1888, and a sinister serial killer is loose on the streets of London's East End. At first he is known simply as 'The Whitechapel Murderer'. But in time, thanks to a mysterious letter sent to a London news agency (a copy of which you will be shown in the course of the walk), he will become known as 'Jack the Ripper,' in which capacity his name will become famous throughout the world.
A Fascinating and Dramatic Tour
On this fascinatingly dramatic Jack the Ripper walk we will transport you back to that long ago era of gas lit terror and take you on a journey through the very streets where the infamous Whitechapel Murders occurred.
You'll Join The Hunt
You will join the Victorian police as they race against time to stop Jack the Ripper before he can kill again. We will also explain the reasons why they found it so difficult to hunt him down.
Your Very Own CSI
Your journey will wend its way through a veritable warren of back alleyways where you will have the opportunity to peruse original documents, see actual police photographs of the crime scenes, and even of the poor victims themselves. You will sift through the evidence, eliminate suspect after fascinating suspect and hear the most up to date theories concerning the killer's true identity.
The Night They Almost Caught Him
This lively and informative of Jack the Ripper walks will then cover the night of the double murder, the 30th of September 1888. This is the night when the police came closest to catching the ripper, and the night when Jack left his only clue behind.
We will discuss the importance of that clue and explain how it answers several questions about the murderer's identity, and about the condition he would have been in as he fled through the very streets that you will walk through tonight.
Original Crime Scene Photographs
They say a picture is worth a thousand words, and so your experience will be enhanced with historic photographs of the streets through which you pass and the sites on which you stand as they were in 1888. This way you will get the full atmosphere of the area which you may not get on other Jack The Ripper Tours.
All in all, this is a truly atmospheric Jack the Ripper Tour through a part of London that few people venture in to.
But, as with many who have taken this fascinating walk, you will be pleased that you dared join us on a journey into the abyss as the twilight hours slowly envelope you in their eerie shadows.