GEORGE YARD (NOW GUNTHORPE STREET)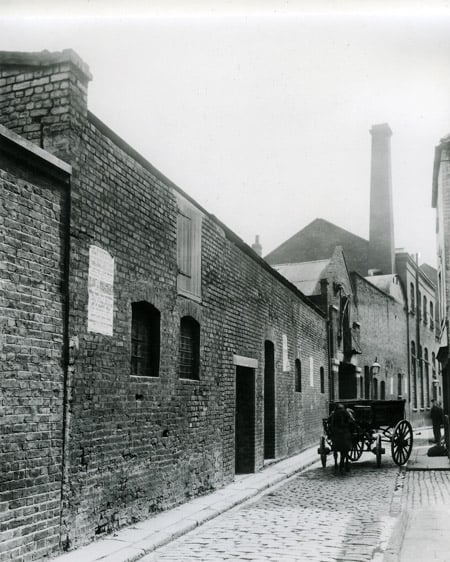 In 1888, Gunthorpe Street, then known as George Yard, had a reputation as one of the most undesirable thoroughfares in East London. This was proved to be the case when, in the early hours of 7 August, the body of a local prostitute named Martha Tabram was found.
SEE THIS LOCATION ON OUR JACK THE RIPPER TOUR
What happened in George Yard in relation to the Jack the Ripper crimes?
Running parallel with Osborn Street, where the attack on Emma Smith took place, and reached via the arch alongside the White Hart pub, there is a cobblestoned alleyway that is now called Gunthorpe Street.
Martha Tabram was a local prostitute in her late thirties who on the evening of 6 August 1888 went out drinking with her friend, Mary Ann Connolly, better known in the area as 'Pearly Poll'. They met up with two soldiers and the four of them spent the evening drinking in a number of pubs on Whitechapel Road and Whitechapel High Street.
At 11.30pm they split into couples and Martha Tabram led her client through the arch by the White Hart pub and towards the George Yard Buildings, an area that was known to be home to some of East London's less desirable characters.
At 5am, a waterside labourer on his way to work came down the stairs and found Martha Tabram lying on the first-floor landing in a pool of blood. He raced off to find a policeman, who ordered the labourer to get the local Brick Lane medic right away. After a cursory examination, he concluded that Tabram had been brutally murdered in a frenzied attack that left her with 39 stab wounds covering her body and throat.
The landmark itself is a rare survivor from the Victorian East End and is typical of the warren of similar dark, sinister alleys that then snaked their way through Spitalfields and Whitechapel.
As you turn in to it from the busy, noisy and often traffic-clogged Whitechapel High Street it takes little imagination to picture yourself pitched back in time.
Indeed, as you walk along Gunthorpe Street, the traffic of the 21st Century is reduced to a distant murmur and it would come as little surprise if its low hum were to be suddenly replaced by the sound of horses hooves clattering over the cobbles.
Admittedly its latter half has seen considerable modernisation, but its first section is very atmospheric, not to say, at times, incredibly sinister!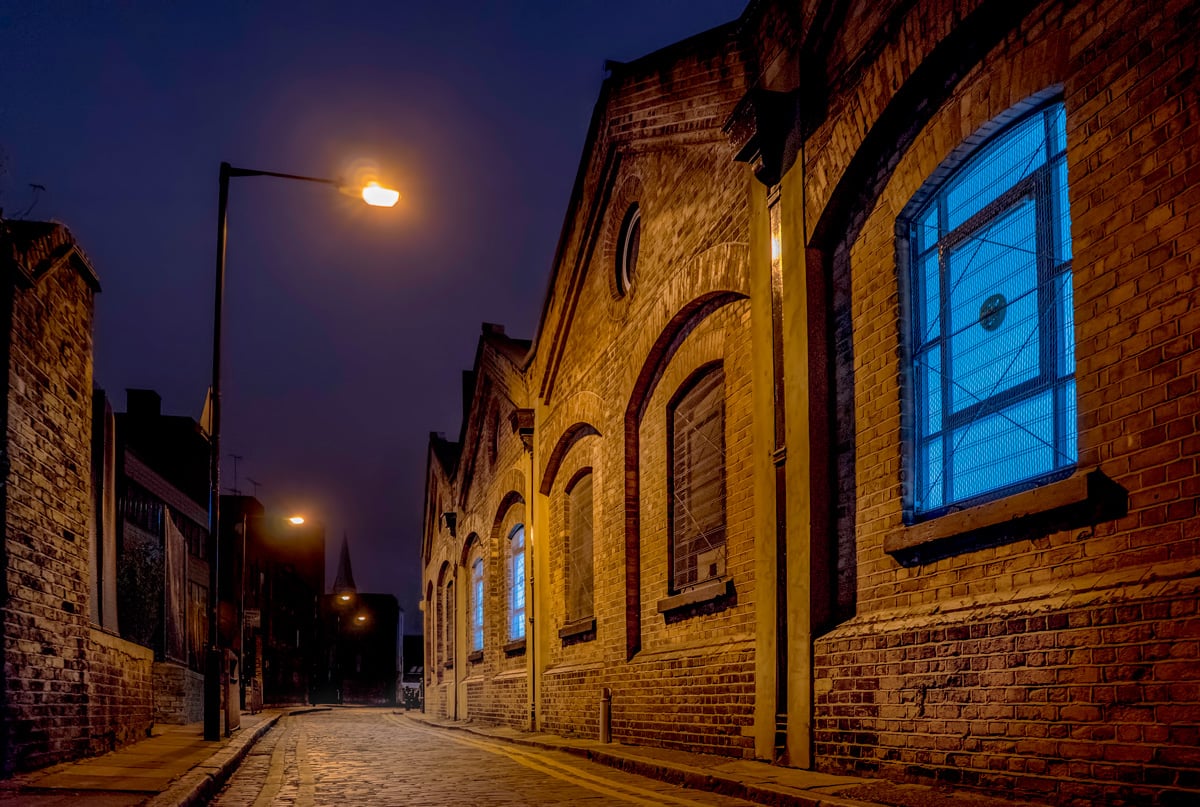 Where is Gunthorpe Street?
E1 7RQ
Gunthorpe Street is located in Whitechapel in the London Borough of Tower Hamlets. The nearest tube station is Aldgate East, which is just 2 minutes to the south-west.
Within a stone's throw of Gunthorpe Street you'll find a host of attractions that includes the Whitechapel Gallery, Brick Lane, Petticoat Lane Market and the Old Truman Brewery, all of which are just a few minutes' walk away.
What is George Yard in the present day?
Despite its unfortunate heritage, Gunthorpe Street is a pleasant cobbled path next to Whitechapel High Street. It leads through a bricked arch that has been decorated with glazed tiles and even has a hand painted map of the local streets. 
How has George Yard changed since 1888?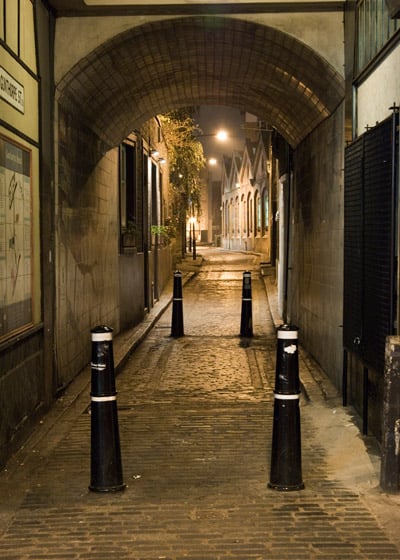 In 1888, George Yard was a dingy alleyway next to the White Hart pub on Whitechapel High Street in the heart of darkest Whitechapel. The area was a known haunt for local prostitutes who would have drunk and also taken clients to the area. In October 1912, the alleyway was renamed Gunthorpe Street after John Gunthorpe, a former rector of the nearby St Mary's Whitechapel.
The East London Advertiser opined that George Yard was "…one of the most dangerous streets in the locality…"
A little way along today's Gunthorpe Street on the left there stands a block of flats, on the upper storey of which there is a white stone on which the date 1886 is still emblazoned in bold, black numerals. In 1888 this building was a shelter and educational centre for girls, run by local philanthropist Mr George Holland.
On the 27th September 1888 the Daily News published a report that made specific reference to this building. The article gives a vivid insight into how the panic generated by the Jack the Ripper murders impacted on the everyday lives of the people who lived in the area at the time of the killings.
Mr. George Holland, whose remarkable work has been going on for so many years in premises occupying an obscure position in George Yard, Whitechapel…says that the sensation that affected his institution very greatly. He has some hundreds of young women connected with his place, and many of them have been afraid to stir out after dark. He is under some anxiety, too, lest ladies who have been wont to come down there on winter evenings to teach and entertain his young people, should be deterred by this latest addition to the evil reputation of Whitechapel, and he is earnestly pushing on alterations in his premises which will give him a frontage out in the main road.
Nothing came of his plans and thus this building remains, still occupying its "obscure position in George Yard," just as it did in 1888.
The East London Advertiser, in an article that was published on 18th August, 1888, informed readers of the undesirability of George Yard as a location, went on to give them a decidedly unflattering impression of the type of person that dwelt there.
According to the article George Yard was:-
"…a narrow turning out of the High-street, [that] leads into a number of courts and alleys in which some of the poorest of the poor, together with thieves and roughs and prostitutes, find protection and shelter in the miserable hovels bearing the name of houses.."
The article also made an intriguing reference to some of the other types of ne'er do well that you might expect to encounter in this sordid little backwater.
George Yard had, so the article informed its readers," for years been a regular rendezvous and hiding place for [army] deserters."
It also informed readers how sharp blades were readily available in the immediate vicinity of George Yard:-
"…Old bayonets…can at any time be bought in Petticoat-lane, and at the old iron stalls there, for about a penny each, and they have frequently been seen as playthings in the hands of the children…."