A PRIVATE VIP
JACK THE RIPPER TOUR BY LONDON CAB
For the ultimate treat why not allow us to escort you around Jack the Ripper's London on a tour of the Whitechapel Murders sites in the comfort of a black London taxi?
You can join one of our Jack the Ripper expert guides for your own private tour in a traditional black taxi that will spirit you back to the streets of Victorian London and which will take you through the events of the autumn of terror.
ANY TIME AND ANY DAY
Since this is your own private tour it can be booked on a day and at a time that fits with your schedule. We can pick you up at a destination of your choice (pick-up from a central London location is included in the £350 tour price. If you wish to be picked up outside Central London there will be an extra charge).
THROUGH LONDON'S EAST END
Once you have met your expert guide, you will be taken on a fascinating tour through the East End of London, where you will shake off the shackles of the 21st century and find yourself spirited back to that long ago autumn of gaslight and terror when the ripper murders brought terror and panic to the streets through which you will be walking.
VIEW VICTORIAN IMAGES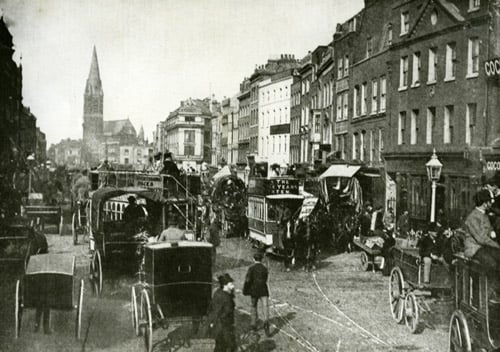 You'll even be able to see evocative images of the murders sites that will show you exactly what they were like in the wake of the atrocious crimes that took place at them.
Imagine that.
Enjoying the flavour of the East End whilst your guide shows you original photographs that will show the sites you will visit as they were in 1888 and which will help you to build up a picture of the layout of the area at the time of the ripper crimes.
FROM THE FIRST TO THE LAST
You will be taken to every one of the Jack the Ripper murder site, and to several of the Whitechapel murders sites sites.
OLD ATMOSPHERIC HOUSES
And you will also see sites and houses that have changed very little, if at all, since they provided the sinister backcloth against which the Jack the Ripper saga was played out.
A THREE HOUR ODYSSEY
The tour itself will take around three hours, and will be conducted by taxi and on foot so that you will be able to absorb the atmosphere of some of the actual murder sites. You can also, if you wish, stop off at a few pubs as you go around. Just let your guide know you wish to do this when you begin the tour.
A VERY SPECIAL JACK THE RIPPER TOUR
So, for a very special tour of Jack the Ripper's London, let our expert guides provide you with an unrivalled experience in the course of which you really will get the impression that you have journeyed back in time.
Your time capsule awaits!