ST PATRICK'S CEMETERY – GRAVE OF MARY KELLY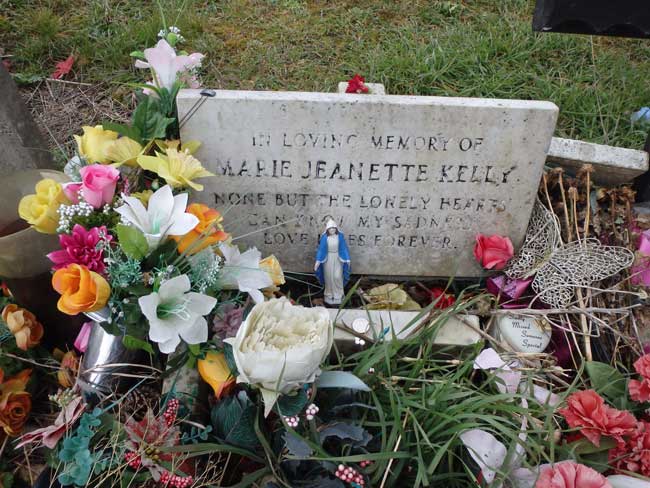 Mary Kelly was buried on 19 November 1888 at St Patrick's Cemetery. She was just 25-years-old when she was murdered, making her the youngest and final of the five confirmed Jack the Ripper's victims. Although our tour does not travel to Mary Kelly's grave, it is something you can easily see for yourself.  
BOOK A JACK THE RIPPER TOUR WITH US TODAY
How is St Patrick's Cemetery connected to the Jack the Ripper crimes?
Mary Kelly was murdered by Jack the Ripper on 9 November 1888. As she was the only victim to have been a Catholic, she was buried at St Patrick's Roman Catholic Cemetery, grave number 66, row 66, plot 10. The funeral expenses were paid by a Mr Wilton, who was a clerk to Shoreditch Church. The mortuary where the mutilated remains of Mary had been kept was in this churchyard.
On 19th November, 1888, the funeral procession left Shoreditch Church at 1.15pm and made slow progress through the crowds of people. All along the route through Whitechapel there were public displays of sympathy, although there was only a small attendance at the cemetery itself.
Where is St Patrick's Cemetery?
Langthorne Road
E11 4HL
St Patrick's Cemetery is just a short walk from Leyton Underground Station, Leytonstone, in the London Borough of Waltham Forest. Leyton tube is on the Central Line and is 20-25 minutes from the city centre. Once you arrive at Leyton Station, turn left along Leyton High Street then left again down Calderon Road. Walk past a couple of turnings then go left into Elmore Road and take the first right into Langthorne Road. You'll then see the gates to St Patrick's Cemetery on your left.       
Finding the cemetery itself is just half the battle. You should then follow the path through the cemetery as it bends right and turn left just after the tree. Once you reach the waste bin on the right, look ahead and you'll see a white statue of a footballer. Just beyond that, you'll see the grave of Mary Jeanette Kelly.  
Although the term is overused in London, Leytonstone is an up-and-coming area with a number of attractions that are well worth your time. Vestry House Museum in nearby Walthamstow focuses on the heritage of the local area and has plenty of artefacts that dating back to the time of Jack the Ripper and before. The East London Sausage Company is also a must for those who like nothing more than a meaty treat.
Information and Facts about St Patrick's Cemetery
St Patrick's Cemetery is still in use today. It has public opening hours of 8am to 4.30pm, so although it does not feature on our tour, it is a site you can see for yourself.
St Patrick's Cemetery was opened in 1868 to help cope with the increase in the local population. By the 1980s, the cemetery had already recorded some 170,000 burials. As well as Mary Kelly, other famous memorials include Bantamweight boxing champion Walter James Croot, the actor Stephen Lewis and a recipient of the Victoria Cross called Patrick Mullane.