Cabmen's Shelters can be spotted at various locations across the streets of London. They are diminutive green huts, reminiscent of a slightly oversized garden shed, and are the preserve of London's black cab drivers.
Inside, cabbies can enjoy a mug of tea or coffee, a hot meal, and a brief respite from the hustle and bustle of darting to and from across the capital transporting fares from one destination to another.
THEIR ORIGINS
They originated in the 1870s, at a time when Victorian Hackney Carriage drivers had to remain with their vehicles when they were on a cabstand, and found themselves exposed to all the vagaries that the capital's climate could throw at them – rain, snow, fog and thick smog.
Many a cabman, with no other means of catering for the necessities of life, made use of London's pubs – but, since the pubs were in the business of serving alcohol, well, let's just say that drunken cabbies were not an uncommon sight on the streets of the 19th-century Metropolis.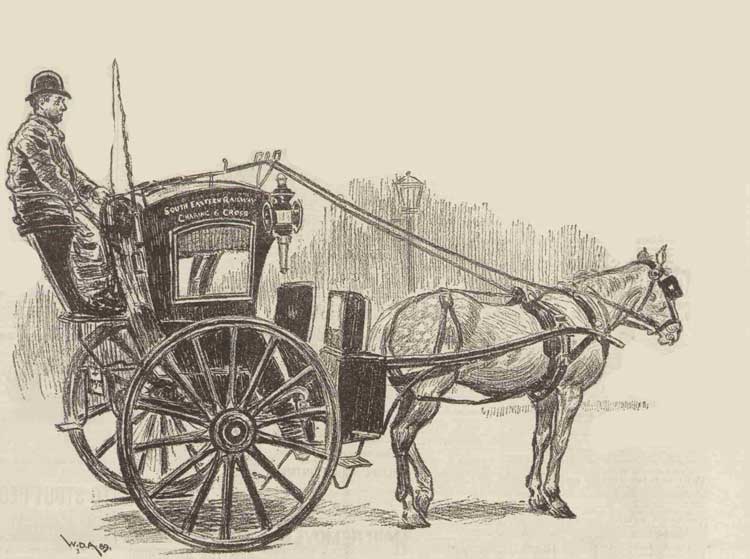 THE CABMEN'S SHELTER FUND
To try and tackle the issue of inebriated cabmen, the Cabmen's Shelter Fund was formed in late 1874, with the stated objective of providing shelters in which the cabmen could enjoy a hot meal, a cuppa and the chance to either read books or newspapers. or else confer with fellow cabmen on any topic they wished to discuss.
Following a public appeal, enough money was raised to establish the first Cabmen's Shelter, which opened on  Acacia Road, St John's Wood on 6th February, 1875.
By the early 20th century, 61 such shelters were to be found across London, and many a London cabman was, to say the least, grateful for the change fo shelter, rest and respite that these little green havens offered.
CABMEN'S SHELTERS TODAY
Today, just thirteen of the shelters have survived, and they can be seen at various locations across London.
A NIGHT IN A CABMEN'S SHELTER
But, what was it like inside one of the Victorian shelters?
On Tuesday, 29th December, 1885, The Graphic – the newspaper which had led the call to raise funds for the shelters in 1874 – published the following article, written by a journalist who, on Boxing Day, 1885, had managed to infiltrate one of the shelters and was able to report back on what went on within:-
"My attention has often been attracted by the pretty little chalet-like structures which, under the name of cabmen's shelters, are to be found in various parts of London. The neat appearance of the little houses, the homely line of smoke issuing from the diminutive chimney, the tastefully arranged flowers outside, all tend to convey an idea of snugness well calculated to make the unfortunate passer-by, to whom the enjoyment of such comfort is forbidden, envy the lot of those more fortunate than himself.
The shelters, erected by the admirable society known as the Cabmen's Shelter Fund are very properly restricted the use of bona fide cabdrivers, and the exclusion of outsiders is strictly enforced.
I am rather an admirer of cabby, and look upon him as one of the most abused men London. He is, as a rule, respectable, hardworking, and jovial, and, notwithstanding the hardship of his calling, he is at best the earner of a scanty living.
Determined to see for myself what the interior of a shelter was like, and to spend a night with en famille, I made certain arrangements which I do not feel myself called on disclose; and enwrapped in an antiquated ulster, shabby hat, and other garments to match, boldly entered the shelter opposite Ashburton House, in Piccadilly, about eight o'clock on Saturday night.
A BOXING DAY NIGHT VISIT
I chose the evening of Boxing Day for several reasons.
The supply of cabs on this annual festival is always restricted, as a large number of regular men do not leave the yard. The demand for vehicles being chiefly in the west end, s number of odd cabs go west for the night, and, owing to this, I stood less chance of detection than on an ordinary night, when all the regular men are about.
Pushing aside the door I enter the shelter, which is occupied by only four drivers.
I sit down, and catching the eye of the attendant, call for "Arf a pint and slice", this being cabby's synonym for a mug of tea and a piece of bread and butter.
THE INSIDE OF THE SHELTER
While waiting for these, I survey my surroundings.
The shelter is about 16ft. long and 6ft. broad. The far end is partitioned off to provide a diminutive kitchen, round which are shelves containing crockery, bread, meat, and other stores, while in the corner is a small stove, boiler, and an array of cooking utensils.
The rest of the shelter, which is spotlessly clean, is devoted to cabby.
A narrow table runs round the centre, leaving a gangway down the middle, while seats are provided by a continuous locker, the interior of which is devoted to stores. Overhead hangs a lark in its cage, which, notwithstanding the lateness the hour, singing gaily. In one corner is diminutive glass book-case; in another a printed tariff, notable for its cheapness.
Among other items is "Cooking one halfpenny", signifying that cabmen can bring their own supper, which will be cooked by the attendant for that sum.
Two of the other occupants are discussing a recent police case, another is reading The Globe, while the fourth is eating his supper in silence.
My stocktaking is interrupted the appearance "George," the attendant, who brings in a half-pint mug of steaming tea and a slice of bread and butter half-an-inch or so in thickness, for which luxuries I pay the sum of twopence.
A TALL STORY
I taste my tea, and find it really good, and, reaching a paper lying on the seat close by, am about to read, when my vis a vis addresses the company generally:-
"Blow if I can swaller this. Here's a bloke as says he spent his Christmas Day in a madhouse, I don't believe they'd let a chap into one of them places."
"I dunno," responds the driver on my right, "I used to have a pal that was a keeper down at Caterham, and he used to tell me all about that lot. There ain't much to be seen. They let the lunatics go out into the fields, and do farming just as if they were as sane you and me."
"But you mean to say that it is likely that a bloke as writes for a paper," continues Number One, "would go and spend his Christmas Day in a madhouse? You can bet a tanner, 'e made it up out of his 'ead at 'ome. What do you think, eh?" turning to me. I quite agree with my interlocutor. I do not think any man who writes for paper would spend Christmas Day in a madhouse – unless he were obliged to; and I am not sorry to see the door open and new-comer enter.
CABBY STORIES
"Hullo, Bill," greets the new arrival, "what sort of Christmas have you had?"
"Well, I mustn't complain I've done well enough at home, but I ain't earned a blessed sixpence today."
"Ugh," interrupts the morose man at the end, "don't talk to me about Christmas. Tell you wot 'appened to me on Christmas Eve. Never 'eard nothing like it. I druv a publican 'ome from Charing Cross to Camberwell. He gave me my fare, and never even offered me a drink. What do you think of that?"
"I dare say you're none the worse for it, after all," responded the other; "I don't believe in drink. I 'avn't touched a drop of liquor this Christmas, 'cept a glass a fare gave me yesterday. I nearly had a row on Thursday, though. I was on the rank, and was called to Brook-street. A servant chap comes out and tells me I am to drive a gent to Earl's Court. Well, out comes, two of them a bringing him. All legs and arms, you know, tight as a lord. Well, that don't do for me. I've had enough of drunken fares. So I says I can't take the gent unless someone comes with him. Well, they says they'll make me, and there was a regular shine, when up comes a copper, and stood by me, so I went back to the rank."
In this way, the time passes rapidly. Conversation becomes general. The company is reinforced by newcomers, and each tells his tale.
A TALE TOLD WITH GUSTO
The contented cabman tells how he spent his Christmas with much gusto.
"I'd been and joined grocer's club some time ago, and I managed to get sixteen bob in. Well, I goes and draws it out on Christmas Eve, and takes it 'ome to the old woman, as a surprise, you know. Never said a word about it, I 'adn't. And what do you think? Why, blowed as if she 'adn't been and joined a grocer's club, too. I wanted to surprise her, and she wanted to surprise me. And didn't we have a Christmas dinner neither?"
A PROBLEM FARE
"I had a rare job last night," says a good-humoured looking man with a black beard.
"I took a fare from Portland-street to Holloway. Four of them. Well, I'd got my second horse, and she's a puller you know. The roads were very heavy, and we didn't get along very fast. I didn't dare to use the whip, 'cos as soon  I touch her, off she goes and there's no stopping her.
That party inside they lets down the winder, and hollers all the way, "Why don't I drive quicker? Why don't I whip my horse? It's only fit to be killed" and that sort of thing.
Well, at last, we get to Holloway, and they give me two bob.
Nice sort of fare for a Christmas night. I hold out for three, and that's only the fare with two extra people. But I don't get it, and I didn't take another fare after."
THE CAB LAW
"I'll tell you what," says a little man with a sharp face, and a bad cough, who has just entered. "The cab law's a disgrace that's what it is. There's no appeal from a magistrate, and you can't even make a fare go before one. You can't make a fare give his name and address, and if he does it ain't the right one."
"No, that's where it is. In my opinion, there ought to be two changes made to the Cab Act. They ought not to grant a license to anyone under twenty-one, and a cabman should be allowed to give a fare in custody if he refuses his name and address."
A BAD CHRISTMAS
The shelter gradually empties. It is past ten, and the cabs are making for the theatres, where fares are expected to be found.
I am left alone with the intelligent little man, and profit by the occasion to draw him out.
"'Ah," he says, "times are very bad. Why, you can see it everywhere. I never saw so few drunken people about as this Christmas. That's a sign of hard times, ain't it? There ain't no money to be got nowhere. I've taken eighteen pence to-day and I did three bob yesterday. That's a good Christmas, ain't it? Bless you, people walk now; they don't ride. I remember the time when I used to do ten bob a day regular with my shoful. I don't make five now. And then, as if things ain't bad enough, I had my whip sneaked on Wednesday. I remember one night about three years ago…. "
"You're next to come on," exclaims the voice of the cab-minder, who opens the door, and with a cheery "Good night," my companion departs.
CABMEN'S POLITICS
His place is soon filled up, however, and by midnight the shelter is again well patronised, the newcomers longing for their suppers, the attendant busy with their preparation. There is much talk, and I learn a deal of cabmen's politics.
Some of the expressions are a little perplexing, and I am particularly in the dark as to the meaning of "shoful," a word which crops up every few minutes. It means, I at length discover, a hansom cab. Of its derivation I am ignorant.
THE FUNNYMAN
One man who enters about midnight is a regular character.
He is hailed with applause as he enters, and soon shows that he is the acknowledged funnyman of the shelter.
A very good sort, too, he seems to be, and very gifted in the use of his tongue, which keeps going incessantly until his turn comes to go on the rank.
His humour consists rather in a cut and dried manner than in the stories he tells, but some of his exploits are worth preserving. He some time ago took his wife to the theatre.
"Two gallery at the Bedford fourpence each, fish supper afterwards twopence apiece – that's a bob – and two 'arfs of beer; that's the estimate, and a very jolly night it was, only that the missus cut up rough at supper, and started slinging the vinegar bottle about, which spoiled it all. What's that you're talking about, boots?" he continues, without pausing to take breath. "I always buys my boots the same way – a second-hand pair for two and a kick, a penny stick of gutta percha, touch up the soles, almost smell the house out, and there you are."
THE GOOD OF THE SHELTERS
To detail one-half the stories told in my hearing on Saturday night would considerably exceed my allotted space.
It must suffice for me to say that during the five hours I spent in the Piccadilly shelter I heard no word of bad language or abuse, no single attempt at a quarrel, although differences of opinion were frequent, and that the whole night passed exceedingly pleasantly, reminding one much more of a social club than of a shelter from the cold wind.
The good effected to the London cabmen by the shelters cannot be over-estimated.
Cabby is, as a rule, a respectable, hard-working, family man, and it is to be regretted that it is no unusual thing for him to be pressed for the necessaries of life.
THE RULES OF THE CABMEN'S SHELTERS
The rules under which the Cabmen's Shelters are conducted are admirable.
The drivers of the first two cabs must always be on the rank, and as soon as one is hired, the cab-attendant or waterman summons the next on the rota.
The tariff for refreshment is exceedingly moderate, and steaks, chops, &c., are supplied by the attendant on equally advantageous terms.
The attendant is a civil-spoken, respectable man, who takes trouble to give his customers satisfaction, and every shelter is under frequent and strict supervision by the officers of the fund.
TWO MORE NEEDED
At the present time, two shelters are badly wanted.
One of these, for Langham-place, has generously been offered to the society by a lady. The other is not yet arranged for. It is to be hoped that Earl's-court will soon be provided with a cabmen's shelter.
A SUCCESSFUL NIGHT
My night in a shelter was a success.
I was not found out, and cabmen with whom I came in contact spoke in entire ignorance of an outsider's presence.
I shall long look back with pleasure to my Boxing Night experience."