I would like to take this opportunity to wish you all a very merry Christmas Day, 2019, and I hope that you are enjoying the festivities.
What would Christmas have been like in the Victorin East End of London?
Well, on Saturday, 29th December, 1894, The Tower Hamlets Independent And East End Local Advertiser, looked back on the preparations that the people fo Whitechapel had been making for the Christmas celebrations four days previous; and, from the information provided by the article, we can glean some idea of how many of the people would have spent 25th December, 1894:-
AN EAST END CHRISTMAS
"Christmas in South Essex was a very quiet sort of affair. In suburban households, the usual festivities went without undignified enthusiasm, whilst, in isolated farmhouses, the hard tines seemed to have crushed out all the old Christmas spirit.
In the East End of London, there was a very different state of affairs. There all was rush and bustle, hurry and business.
There, scenes were enacted which would cause considerable surprise to those more wealthy East Londoners who leave the East End at dusk for their snug Essex houses.
A PICTURESQUE APPEARANCE
In fact, the district lying between Aldgate pump and Stratford Church promoted so picturesque an appearance that more than one periodical sent special representatives to write up and describe the – to outsiders – unaccustomed sight.
Some of the London evening papers gave particularly vivid word pictures of the East End Christmas.
For obvious reasons, the outside journalist is peculiarly qualified for the work of describing. He is so unused to sights which are to us of everyday occurrence that the salient points of the oft-times curious spectacles strike him at once.
THE CHRISTMAS EVE CLIMAX
Of course, most people know that for the whole of the week preceding Christmas, Whitechapel and Mile End hold their Saturday night market, but on Christmas Eve comes the climax.
From Aldgate to the People's Palace stretches the long line of booths, sheds, and costers barrows.
Everyone who is not selling seems to be buying, and all Whitechapel seems to be promenading the streets. The long, broad road, with its avenue of gleaming, flaring, lights stretching along as far as the eye can see until they mingle in one line of fire, the shifting crowds, the gaily decorated shops and booths form an animated kaleidoscopic scene.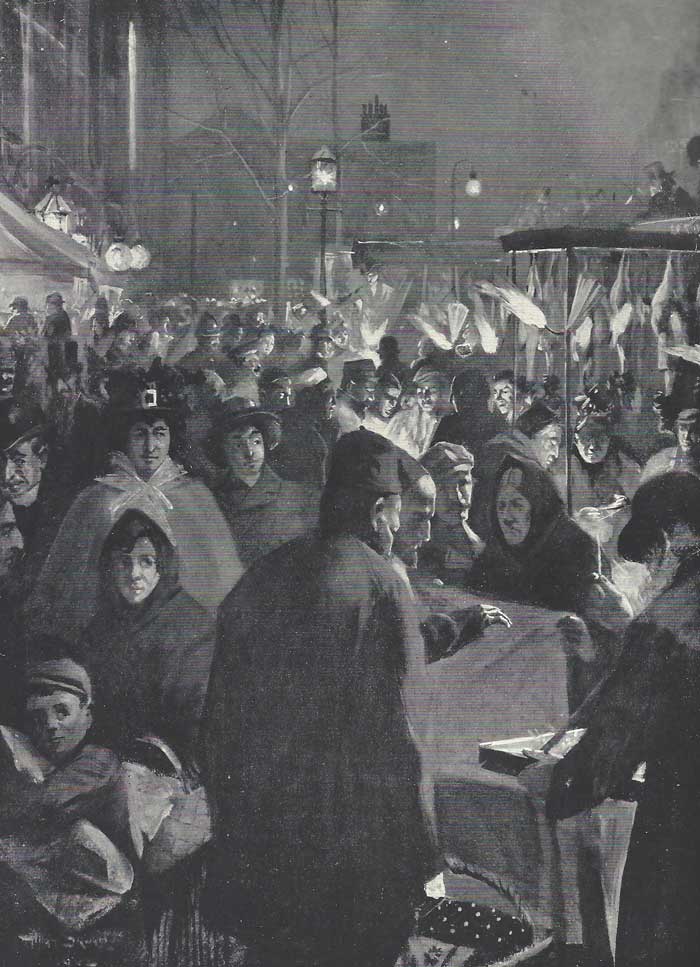 REMBRANDT-LIKE PICTURES
A picturesque writer in Mr. T. P. O'Connor's paper works himself up into a live state of enthusiasm as he surveys the scene.
It is, he declares, a series of wonderful Rembrandt-like pictures as the flaring naphtha torches over the booths throw into vivid relief the figures of the bawling cheap-jacks mounted on their stools, whilst the upturned faces surrounding each are seen dimly from moment to moment in a red glare as the wind blows the flame into master strength.
The din is deafening, for Whitechapel vendors seem to be gifted by providence with exceptionally strong lungs, and each is tonight doing his Christmas best to out-shout his rivals.
HOLLY-TRIMMED MEAT
But the butchers, amongst their holly-trimmed joints, are doing a roaring trade, for many have scraped up something to buy a little bit of meat, and crowds of women block the path, fingering appetising scraps.
The boys in blue brandish their long knives gleefully, bellowing their refrain of "Beu'ful meat; c'me buy" "There y're, my dear, finest meat you ever eat," and he bustles something into a woman's bag. She walks off complacently, and remarking to her friend " I told yer ye'd git it cheaper there. That'll make a fine dinner for tomorrow."
The costers are selling oranges by hundreds, and the children swarm round their harrows, but at the greengrocers' shops, genteeler fruits for the Christmas dinners of the shopkeepers and more well-to-do artisans are in great demand.
CHRISTMAS TREES AND ORNAMENTS
A characteristic feature of Whitechapel Road on Christmas Eve, and one that strikes all strangers, is the sale of Christmas trees. There is no one like the East End coster for making a demand, and in almost every third booth sits a man in a semicircle of Christmas trees, chiefly of the smaller size, whilst piles of greenery are heaped up beside him.
At the neighbouring harrows are all sorts of penny, halfpenny, and farthing delights with which to deck its branches.
"Ornaments for the Christmas tree," shout the men in their raucous voices, and their wares quickly disappear – tiny coloured candles, bunches of flags, at a halfpenny, wax angels, funny wooden animals, and delightful little Dutch dolls long ago discarded by richer children, and strange, old-fashioned toys, now only to be found in small village shops, or in hidden corners of the East End.
WAX FRUITS
Here, too, is a small, quaint shop, the home of those marvellous wax fruits, crochet flowers, and long glass lustres, which are still the outward and visible sign of luxury and taste to a large class of English men and women.
PEEPS INTO SIDE STREETS
The descriptions might be made to include peeps into side street auctions, the curious bargaining customs of the shrewd East End housewife, the lower depths of slum life and the unique spectacle of the lodging houses on Christmas Day.
But of East London, that vast home of mystery, more bewildering than ought ever imagined by Mr. Maskelyne at the Egyptian Hall, there could be compiled a literature of its own."