Once the "Dear Boss" letter, signed "Jack the Ripper", was widely circulated, it led to a veritable avalanche of similar missives either bearing the same chilling signature or else offering advice on how best to catch the perpetrator of the crimes.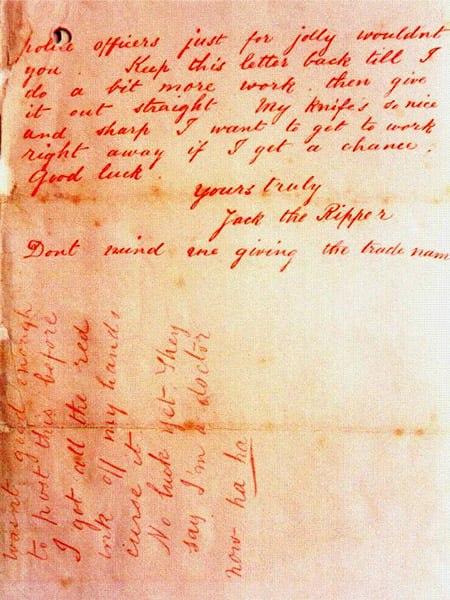 THE ALLURE CONTINUED
Interestingly, the allure of the Jack the Ripper letters continued long after the Whitechapel murders themselves had come to an end.
The Lincolnshire Standard and Boston Guardian reported on one such letter, which had been sent to a resident of Boston in Lincolnshire, in its edition of Saturday, 12th April 1930:-
JACK THE RIPPER LETTER
BOSTON RESIDENT AND A THREAT TO MURDER
Exaggeration and wild rumour ran riot in Boston during this week as the result of a typewritten letter signed ''Ripper" received by Mr. W. H. Hall, a fisherman, of 102, West Street, last Saturday.
The letter, posted at Blythe, near Newcastle, on Friday, was delivered to Mr. Hall's home on Saturday, and the anonymous sender intimated that he would be visiting Boston in a week or so.
According to Miss Hall, the daughter of the consignee, the writer declared his intention of murdering her father.
Mr. Hall took the letter to the police, who, it is understood, regard the matter as a poor attempt at an absurd joke.
GAVE THEM QUITE A TURN
Describing the reception of the letter, Miss Hall, who read it to her father, said it gave them all quite a turn, while Mrs. Hall, who stated that she had been in the habit of sitting up after the family had retired to bed, in order to read, declared her intention of discontinuing that practice.
HE WAS KNOWN AS BILLIE
Discussing the matter with a "Standard" representative, Mr. Hall declared his surprise at having the letter addressed to him "William Henry." Few people knew that to be his name – he was invariably known us Billie – but recently he had seen his name in print in a competitive weekly journal, he himself having supplied it in full.
It is thought that whoever sent the letter had read the name in that paper.
A STATE OF ALARM
School children took the story to their homes very shortly after the news was circulated, and rumour developed among certain folk a state of alarm.
Not the least excitable forecast of what was to happen was the assertion that the individual responsible for the recent German outrages had written a series of letters to people in Boston, threatening murder.
Various people were even named as having received them, but they themselves knew nothing at all of the rumours."