One of the great things about conducting Jack the Ripper tours is the number of people you get to meet who have an interest in the case with whom you can discuss various aspects of a mystery that has intrigued and confounded people the world over for more than 125 years.
Last year (2014) we were joined on the tour by Brett Sheehan who was visiting London from Mittagong, New South Wales, Australia,
A KEEN PHOTOGRAPHER
Brett is a keen photographer and he takes stunning and genuinely atmospheric photographs. He also adds several effects to some of his images which lend them an added air of curiosity, not to say in some cases genuine poignancy.
A VALUED POSTER ON OUR FACEBOOK PAGE
I first became aware of Brett's photographic record of his time in London when he shared several of the pictures he had taken on our Facebook Page.
Intrigued by the different perspectives he had put on the various locations, I contacted him to ask if he had other photos. He replied to say that he had started a Flickr page of Whitechapel and Jack the Ripper.
So I headed on over there and was really impressed with what I saw.
Some of my favourite photos were a series of multiple exposure images that he had done in Mitre Square showing himself sitting on the bench by the site of the Catherine Eddowes murder site.
THE PERFECT METAPHOR FOR OUR TOUR
It struck me that these photos are a perfect metaphor for our Jack the Ripper Tour in that we take thousands of people from all over the World to the various sites each year all of whom are there for but a fleeting moment, pondering the sites and the victims – such as, in this case,  Catherine Eddowes. But then they are gone and, in many cases, will probably never visit the locations again.
GREAT NIGHT TIME SHOTS
Brett also took some wonderful night time shots around the East End, such as this one of Goulston Street
and this one in Gunthorpe Street.
AN INTERVIEW WITH BRETT SHEEHAN
So, having admired Brett's hauntingly atmospheric, and thought provoking, images of the East End of London, I thought it might be interesting to see if Brett would be willing to do an interview about his impressions of Jack the Ripper's London and how his experiences on his trip to London lived up to his expectations.
Brett graciously agreed to an interview and so I sent him off a series of questions which he duly returned along with his answers.
So, how long have you been interested in Jack the Ripper?
I saw From Hell about a decade ago, & every so often I would read up on the subject, but I became more serious about my interest in 2013 when I got around to reading the books I purchased while visiting America in 2012. So technically around a decade, but seriously interested for about two years.
When you came to London you actually stayed in the area where the murders occurred. What was your impression of the area?
Quite frightening at first. On our first night (I was traveling with Mum), I kept hearing some man yelling profanities just outside, which I found really unsettling. After spending more time there though, I found it to be a really interesting & refreshing place to be. I enjoyed just walking & exploring.
Was the area how you had expected it to be?
Yes and no. I knew to expect that the actual murder sites had changed so much (or built entirely over), but I wasn't expecting streets like Fournier Street to still have a lot of the old buildings and atmosphere. I wasn't expecting Brick Lane and Hanbury Street to be so trendy and more arty.
You were out on the streets quite late at night, judging by some of your photos, did you feel safe?
I did actually. The only time we were out at night was to do the tour, and I had gotten familiar with the area by the time we did it so I knew which way to go to the meeting point, and where to go to get back to the hotel afterwards.
As I have mentioned I was really taken with your Sherlock Holmes sequence at the Catherine Eddowes murder site. Where did the inspiration for that come from and what were your thoughts at the site?
Thank you. I'm not sure if I can pinpoint exactly where the inspiration came from. I think I would say that ever since I got the more heavier Nikon F4 camera, I had been interested in trying out self portraits like this, and I wanted to do something to express my sympathy for Catherine Eddowes (or all of the victims). I wore the Deerstalker when we did the tour, and wore it ever since while I was visiting, so it was just a coincidental addition.
I can't quite remember what my thoughts were, but I think I had this feeling of being overwhelmed that I was actually there. I do recall being surprised at how small it was, but I think that was due to the construction work going on.
Of all the locations, which one do you think came closest to being as it was at the time of the murders?
I think I might have to say Goulston Street, actually, or possibly Gunthorpe Street. I might add, that although Mitre Square is currently being re-developed, one of the construction walls that went along where what used to be Church Passage did actually give me the feeling of what it would have been like.
Which was your favourite location?
I think I would say either Gunthorpe Street, or Henriques Street.
Did any of the locations disappoint you because they have changed so much?
Not really because I knew what to expect, and I had read some of your articles that talked about other places in the area which still had the feeling of the 19th Century. I may not have taken much notice of these other places had I not. Plus, although the actual murder sites have changed so much, I couldn't help but keep thinking that they actually happened there, which made me feel a bit overwhelmed I think.
You also visited the graves of the victims. How was that as an experience?
Very emotional. We were lucky to be able to get to all five. We first went to Mary Kelly's grave, & I felt like crying. It was a moving day. I would have wanted to have placed flowers on each one, but as we weren't familiar with the locations, we didn't, but I did have a silent moment at them all though.
Which location did you think was the creepiest?
That arched entrance to Gunthorpe Street probably, but I think I must add that despite being changed so dramatically, Dorset Street still creeped me out. Obviously I couldn't walk down due to development, but I still found it unsettling knowing that such an atrocity happened not far from where I was standing.
What did you think of all the street art in the area?
I found it very interesting. The street art on Hanbury Street stuck with me the most. I really liked the mood that it created. I thought it was quite pleasant.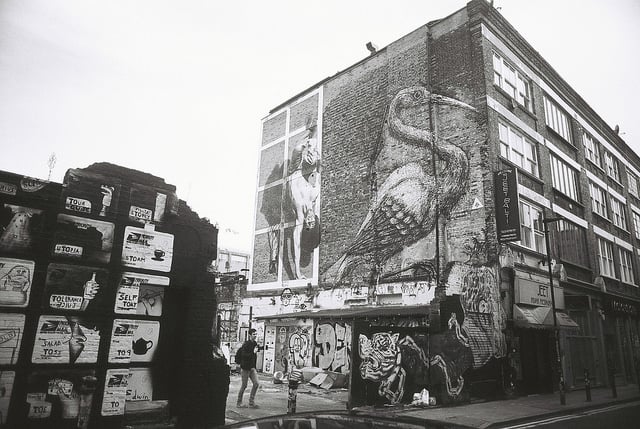 You did a lot of exploring on your own and sought out many different locations, such as George Lusk's house in Mile End, did you find it easy to locate them?
Pretty easy generally. For places like Lusk's house, we had hired a driver from Brick Lane Cabs to take us out for the day (this is also how we got to the cemeteries), & he was great. Very patient. As I had taken a copy of "The London of Jack the Ripper: Then & Now", by Robert Clack & Philip Hutchinson with me, the streets & pictures made places easy to find. This was extremely helpful for a lot of sites, such as Lusk's house & non-canonical sites like Pinchin Street & Old Castle Street.
The only difficulties I had were Swallow Gardens, & Mitre Square. I couldn't find the latter on my own (once I ended up back at Dorset Street after taking a wrong turn from Goulston Street), so after numerous attempts we just went there in a cab, with Swallow Gardens, I wasn't sure where the spot was so I didn't find it. I think I did well though, for a first visit.
Will you be returning to London?
Definitely. Hopefully next year. The Scotland Yard Black Museum exhibition would make it sooner than planned, but hopefully we can do it.
Well, a big thank you to Brett for answering the questions and for providing us with some wonderful and evocative images.
You can check out many more of his images taken in the London Streets that were the haunts of Jack the Ripper on his Flickr page. He's also put a lot of them on our Facebook page and, hopefully, will continue to do so.