The Victorian East End of London could be a brutal place, and nobody was safe from random attacks as they walked the streets of the district at any time of the day or night.
Gangs of ruffians, were always on the look out for likely targets whom they could rob – and sometimes even murder.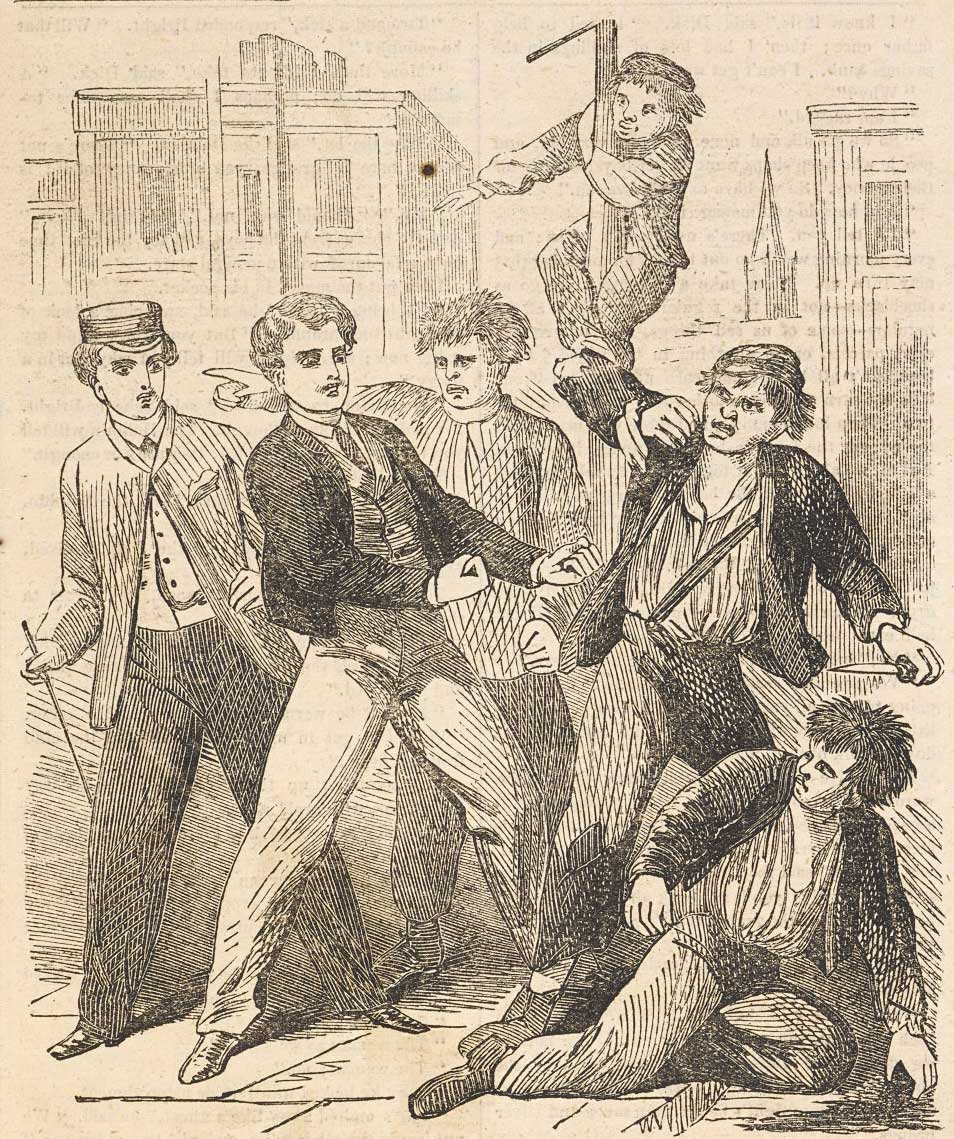 BRUTAL ATTACK ON AN EAST-END DOCTOR
And, as the following story, which appeared in Lloyd's Weekly Newspaper on Sunday, 21st May 1899, demonstrates, the local street roughs didn't much care who they robbed, nor, for that matter, what effects their activities had on their victims:-
ROBBED IN BROAD DAYLIGHT
"It has often been said that London doctors enjoy an immunity from violence at the hands of the Hooligan fraternity, who are deterred by their indebtedness to medical men for many gratuitous services. This pleasant theory was rudely shattered by a blackguardly attack made in broad daylight, between one and two o'clock on Thursday afternoon upon Dr. Thos. Phillips, of Commercial-road, East.
Only across the street from his own house the doctor was attacked by five powerful young ruffians, who caught him round the neck, dug their feet and knees into his back and sides, and, having knocked him down, made off with his gold watch, chain, and pocket-book, and three two-shilling pieces, leaving him lying unconscious on the pavement.
Two men alleged to be of the gang were run down by a constable, chiefly owing to the pluck of a lad who witnessed the last stages of the struggle.
EXCRUTIATING PAIN
A representative of Lloyd's last night called upon Dr. Phillips, and had from him an account of his shocking adventure.
The doctor is a gentleman past the prime of life, and he has sustained very serious injuries "from head to foot," as he said, of his left side.
The divisional surgeon, who has visited him repeatedly, insisted that he must have complete rest, lest haemorrhage of the heart should supervene.
Every movement gave him excruciating pain.
SECOND TIME HE HAD BEEN ATTACKED
That was, Dr. Phillips said, the second time he had been attacked and robbed during 20 years' residence in Commercial-road. Exactly the same thing occurred to him seven years ago, when his watch and part of a gold chain were taken.
The former assault was committed at four in the afternoon.
THIS RECENT ATTACK
On Thursday last he left his house exactly at 1.30, and had not proceeded a hundred yards when two rough fellows made a grab for his chain. He tightened his coat and was instantly attacked from behind by three more men.
They knocked him down and literally jumped on the top of him.
From the clumsy way they went about their work the doctor thought they were not expert thieves.
Within less than half a minute he became unconscious, and it was only now that the details of his encounter were recurring to memory.
He remembered one of them saying during the scuffle: "Give it up and be quiet." He also clearly recollected having seen one of the men now in custody loitering near the house about half-an-hour previously, which gave him the impression that their attack upon him was the outcome of a preconcerted plan.
He valued the watch and chain, neither of which had been recovered, at 8l. or 9l. But additional value was attached to the watch on account of its belonging to his son, to whom it was given, as a birthday present, by the boy's grandmother.
Dr. Phillips was suffering great pain, and bore the evidence of having received a terrible shock. It would, he said, be some considerable time before  he recovered, if he ever did completely recover.
THE CASE IN COUJRT
Henry Edwards, 18, and Charles Windward, alias Wells, 19, were charged, yesterday, at the Thames police-court, with being concerned with others, not in custody, in assaulting and robbing Dr. Thomas Phillips, of Commercial-road.
The prosecutor, who appeared in such a weak state that he had to be accommodated with a chair, deposed that he was a member of the Ratcliff vestry and Limehouse District board.
He said that he was surrounded by five or six men, who struck and knocked him to the ground. He was then jumped upon until he became unconscious. His left side was seriously injured and he was robbed of his gold watch, chain, and pocket book. On coming to, he found himself being attended to by some neighbours.
The witness had to be assisted out of court.
RICHARD BATTLE'S TESTIMONY
Richard Battle deposed that he worked in York-road, Stepney, and, while having his dinner, he heard a scuffle and then a cry of, "Help! Help!"
He saw both prisoners and other men round Dr. Phillips. Windward had his knees on the prosecutor, and was searching his pockets. He saw the watch in one of the men's hands but he could not say what became of it.
When the prisoners ran away he followed and gave information to the police.
The witness pursued Windward, who threatened to shoot him.
REMAND GRANTED
Windward denied having had anything to do with the affair, and said that while looking at a fight he was taken into custody.-
Mr. Dickinson, at this stage, granted a remand, as the case would have to come before another magistrate."
THE ATTACK ON AN EAST END DOCTOR
Lloyd's Weekly Newspaper, Sunday, 28th May 1899:-
Yesterday, at the Thames Police Court, Henry Edwards, 18, and Charles Windward, alias Wells, 19, were brought up on remand, for being concerned  in assaulting and robbing, Dr. T. Phillips, a well-known East-end resident, residing in Commercial-road; and. Charles Desmond, 22, and Henry Smith, 24, were charged with being concerned in the affair.
The prosecutor, who was a member of the Ratcliff vestry and Limehouse District Board of Works, on Friday week, when within a short distance of his own door, was attacked by a number of men, but, prior to that, he had noticed Edwards look under his coat, apparently to see if he was carrying a watch.
Dr. Phillips was struck and knocked down, after which his brutal assailants jumped on him until he became unconscious. In consequence, his left side was seriously injured, and he was robbed of his gold watch and pocket book. He still appeared very ill and had to be assisted into court.
He stated that, with the exception of Edwards, he was unable to identify either of the other prisoners.
Witness was still suffering most acutely from the injuries he had received, and had only come from his bed to attend the court that day. His watch and chain had not been recovered.
Evidence was also given proving that Windward searched the prosecutor's pockets.
Desmond was present at the time, and he ran away with the others.
DENIED KNOWING EACH OTHER
When Windward was searched, a piece of paper, on which was written Desmond's address, was found, and that led to the arrest of that prisoner.
When Inspector Montgomery asked Windward if he knew Desmond he denied all knowledge of that person.
Witnesses were now called who proved seeing all the four prisoners together on the day in question.
DR MARSHALL'S TESTIMONY
Dr. J. Marshall stated that he was called to the prosecutor, and found him suffering severely from nervous shock. There was a grazed wound on the left side of the head, and it covered an area of about a square inch.
Dr. Phillips complained of considerable pain under the left shoulder blade, and that denoted he had been injured by a fall  – or the applying of severe pressure. He suffered further generally from muscular pains over the left side.
Edwards: "A wonder he isn't dead, then!"
Witness, continuing, said the prosecutor was still suffering.
Mr. Mead committed the prisoners to the Central Criminal Court for trial for highway robbery with violence."
PUBLIC DONATIONS
Doctor Phillips found himself unable to work as a result of his injuries, and so the local people launched a public appeal to start a subscription fund to raise sufficient money to support him.
By the November of that year the fund had raised £41. 2s. and 8d.