Throughout much of the late 19th and early 20th centuries, poverty was almost endemic in the East End of London.
In truth, there were many other parts of London in which poverty was rife, but, for several reasons –  the Jack the Ripper murders of 1888 being one of them – the newspapers focussed their attention on the social conditions in the East End of London, with the result that Whitechapel and its surrounds became synonymous with widescale destitution in the minds of many Victorian citizens.
It has to be said that, when reading the newspaper accounts of 19th century East End poverty, you really must have a heart of steel not to feel moved, almost to tears, at the daily plight of many of those who resided in the district.
Take, for example, the following article, which appeared in The Sunderland Daily Echo and Shipping Gazette on Tuesday, 24th January, 1893:-
EAST END POVERTY
FEEDING THE HUNGRY LITTLE ONES
"None but those whose daily avocation brings them into immediate contact with the misery, squalor, and poverty of the East End can form anything approaching adequate conception of the terrible privation and suffering now being endured by the hapless little ones of the unemployed.
So acute indeed has become the pinch that efforts are being made by several members of the School Board, and one or two other local philanthropists, to organise a series of free breakfasts for the children of the East End, and the poverty-stricken district of Hendon.
Two volunteers are worth twenty pressed men, and the hope that prompt action will be taken with regard to the proposal Messrs R. A. Bartram and F. Lamb initiated the movement thia morning by a promise to defray the cost of 1,000 breakfasts out of their own pockets.
GIVE THEM A PIECE OF BREAD
"It's a good job that someone has taken the matter up," exclaimed a prominent Corporation official to an Echo representative, who visited the James Williams-street schools this morning for the purpose of watching the little ones enjoy their breakfast.
"My little girl," continued the official, "goes to the same school, and often she brings four and five schoolfellows home with her saying, "Dadda, give them a piece of bread they've had no breakfast, nor dinner."
PINCHED BUT WASHED FACES
This morning's spectacle of the famished, ill-clad children filing into the school at 8 o'clock was pathetic in the extreme.
Their pinched little faces told a tale that would be difficult to express in words. Dozens were bare-headed and bare-footed, their only protection from the cold being a parcel of rags.
It was pleasing to note, however, that almost without exception the morning wash had not been neglected.
UTENSILS AND UNSTINTED SUPPLIES
Had it not been for the pathos of the whole thing, one might have been tempted to laugh at the queer assortment of drinking utensils the youngsters came with. Pots, cups, cans, dishes, lobster tins were forced past one another in the struggle to reach the huge vessel from which Messrs Embleton, Turnbull, Laidler, and Miss Eilley were dispensing as quickly as possible the rich steaming cocoa and slices of bread.
Unstinted supplies were at hand, and for nearly an hour the youngsters continued to remove cocoa and bread at an amazing pace. Girls and boys no taller than the proverbial six pen'orth of copper struggled valiantly with pots and hunches of bread almost the size of themselves.
"Look at this young robin," remarked Mr Embleton, as a typical bare-headed, bare-footed, and begrimed street arab came forward for the sixth time in search of more bread and cocoa.
OFF TO SCHOOL
At nine o'clock, the youngsters scampered off to school, joyous, merry, and for once in a while a well-fed crew.
Similar breakfasts were given at Hendon, Thomas-street, and Simpson-street. They will be repeated tomorrow, and if sufficient money is forthcoming the movement will not be permitted to lapse."
EAST END POVERTY. ONE ROOMED HOMES
Nine years later, on Friday, 12th December, 1902, The Luton Times and Advertiser published the following article about the types of accommodations that were available to the poorer classes in East London:-
"Inquiry into the conditions of the poor in the East End of London shows that more and more money is going in rent.
Houses which formerly were let at 10 shillings and 11 shillings a week are now bringing to the landlords 14 shillings and 15 shillings; and the terrible pressure of the "Key" system, which has changed neighbouring districts into foreign quarters, is gradually making itself felt in South-west Bethnal Green.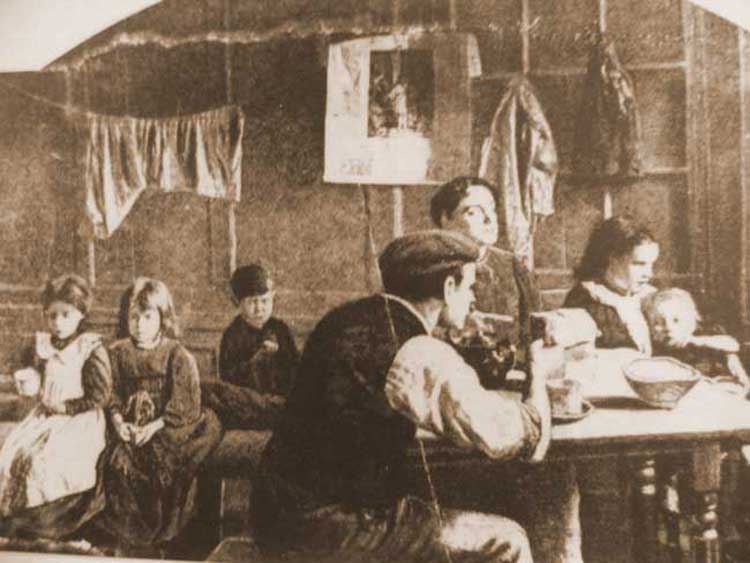 DRIVEN INTO ONE OR TWO ROOMS
The result of high house rent is that labourers earning 20s. or a guinea a week are driven into one or two rooms, for which they pay 4 shillings or 6 shillings a week.
More often than not, the family lives in a one-room home, and overcrowding is inevitable, with all its dangers to public health.
FURNISHED LODGINGS
There is a still lower grade of accommodation than the one room, without descending to the common lodging-house life, which flourishes in Spitalfields – it is that which is to be found in furnished lodgings.
Whole streets of them are to be found in Bethnal Green.
The rooms to be let are small; the "furniture" frequently furniture in name only, and the rent 6 shillings a week each room.
There is no saving; it is only when the labourer has fallen upon evil days and pawned his "home" bit by bit that he has recourse to furnished lodgings.
The bitter needs of such ill-fortuned folk are only discovered by visitation – at all events at this stage, although in some quarters there is ominous talk of bread riots if famine ensues."
A VICAR'S WARNING
By 1909, conditions had still not improved.
In fact, if the following article, which appeared in The Chard and Ilminster News, on Saturday, 11th December, 1909, is to be believed, the conditions had got worse rather than better; so much so that, as the article warned, some of the people living in the area might well soon decide to revolt against the conditions and poverty that they were being forced to endure:-
"The Rev. L. S. Wainwright, vicar of St. Peter's, London Docks, E., and chairman of the Stepney Distress Committee, drew a vivid picture of East End poverty when he spoke on Tuesday afternoon to a West End audience at the Grosvenor Hall, Buckingham Palace Road.
"I know the real state of affairs," he said," and I can say that the distress this year is greater than last year.
Since the time of the great dock strike many years ago, the conditions in the East End have been going from bad to worse, and of late years unemployment figures have been going up by leaps and bounds.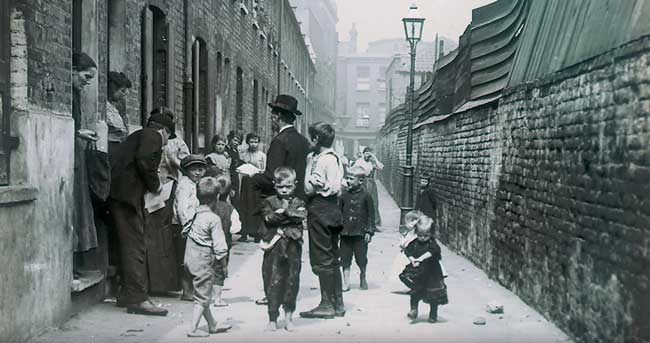 THE PEOPLE MIGHT REBEL
Nobody can really foresee how it will all end, or how much longer the people will last out without breaking into open rebellion. Already there are signs that it will shortly be difficult to keep the people in order unless something is done.
Men are asking right and left for work, and, when told that there is no help for them, they reply in strong language that if they cannot get means of livelihood in one way they will get it in another way.
1,330 APPLICANTS FOR WORK
Since the register opened at Stepney at the end of September, there have been 1,330 applications for work from men and thirty from women. Out of these, 256 men are today at work, and since the opening of the register 324 have been found employment through the local distress committee.
These figures do not represent the full extent of the poverty because scores of men, tired of applying without a possibility of securing work, now refuse to sign the register.
Cupboards are bare, and men, women, and children never looked so hungry.
MEN WORN OUT BEFORE THEIR TIME
In the accident wards of the hospitals you would find the bulk of the men who have met with injuries on the first day on which they have regained employment, and this I attribute to starvation during unemployment and to the dilapidated condition of the men's boots.
In the male wards of the hospitals too, you will find a tremendous amount of coughing and consumption due to want of nourishment.
This means that men are being worn out before their time owing to lack of food.
RECOVERY IS IMPOSSIBLE
In times gone by, the district has recovered from periods of depression, but of late this has been impossible.
I suppose the present state of things will go on. They could not be any worse.
Many strong men and women have gone to their graves before their time owing to starvation, and many are still going to their graves from the same cause.""