The murder of Martha Turner – also known as Martha Tabram – took place in the early hours of 7th August 1888 on a dark, first-floor, landing of George Yard Buildings, in George Yard, a narrow arched turning off Whitechapel Hight Street.
Although George Yard is now known as Gunthorpe Street, the actual entrance to the thoroughfare is still much as it was in 1888.
WHAT YOU SEE TODAY
Entering it from Whitechapel High Street, you still pass the White Hart Pub, just as you would have done in 1888.
A GATEWAY TO THE PAST
By the side of the pub there still stands a wonderfully atmospheric, not to say decidedly sinister, arch – which is still looks exactly the same as it would have looked when Martha Turner walked through it on the night of her murder.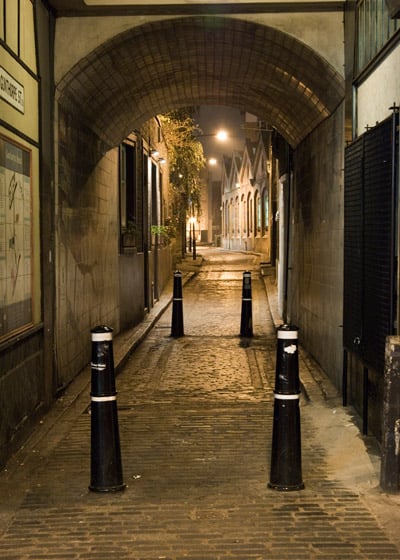 THE 1886 BUILDING
A little way along Gunthorpe Street, on the left, there still stand another extremely atmospheric building  that has the year 1886 emblazoned on its upper storey and which, again, has hardly changed – if it has changed at all since 1886.
COBBLED AND COBWEBBED BY TIME
Gunthorpe Street itself is still a cobbled alleyway and walking along it you can get the genuine thrill of feeling that you have somehow been transported back to the East End of 1888 when it was called George Yard.
This photograph of it, taken by Brett Sheehan, shows it as it looked in 2014.
This photograph shows it in 1890, just two years after the murder of Martha Turner had taken place.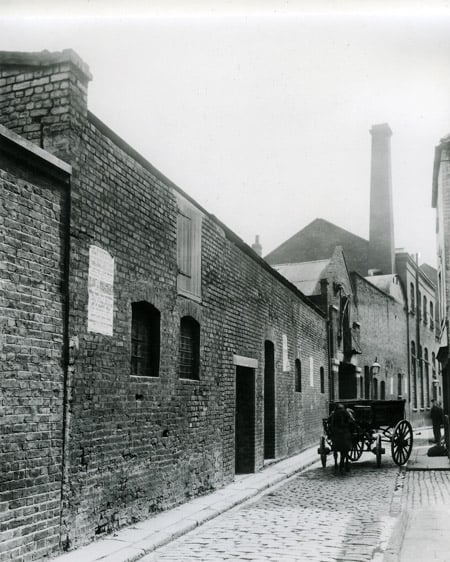 THE FIRST ALLEYWAY ON OUR TOUR
Of course, the best way to really get the feel for just how unchanged George Yard is is to walk along it and absorb its atmosphere. You can do just that on our nightly walking tour of Jack the Ripper's London, as this truly remarkable East End survivor is the very alleyway that we enter within a few seconds of setting out on our perambulation of the mean streets of Jack the Ripper's East End.