One of the breathtaking moments on the guided walk we conduct around the haunts of Jack the Ripper, is the point at the start when we pass under the dark archway that leads from Whitechapel High Street into, what is now, Gunthorpe Street.
It is the moment when we often here gasps of amazement from the participants on the tour as they find themselves transported from the bustling 21st Century into the world of shadows that was the 19th century East End.
This archway really is a gateway back to the London of Jack the Ripper and it makes for a truly dramatic start to our walk around the ripper's haunts.
Here is a photograph of it so you can see for yourself just how creepy and atmospheric it looks.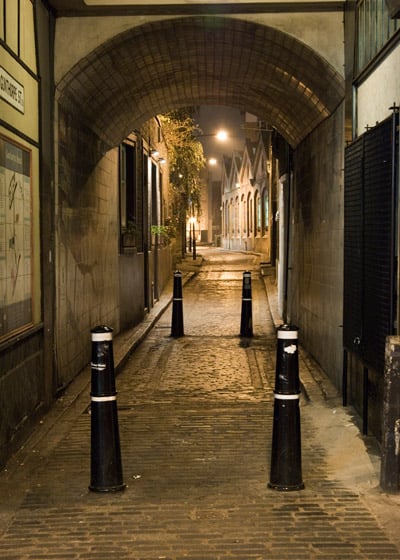 One of the finds I made when I was doing the research for my book Uncovering Jack the Ripper's London was a photograph of George Yard as it was in 1890, so two years after the Jack the Ripper murders had taken place in the area.
I must confess to feeling quite chuffed with myself when this little gen of a photograph came to light!
Since then it's appeared in several other books, credited to me by more scrupulous authors, and not credited by the less than scrupulous(!) and has also found its way onto several websites where it is rarely credited.
Anyway, it is one of my contributions to the study of the Jack the Ripper crimes and I thought I'd just give it a mention.
So here it is, George Yard, now Gunthorpe Street, where one of the crimes that shook the World occurred.