Today, it being the day after the murder of Mary Kelly on 9th November 1888, I thought I'd return to the scene of the crime, as it were, and look at the locations that featured in the story of Jack the Ripper's last murder, as they are now and as they were back in 1888. So I hope you enjoy this look at Jack the Ripper's London then and now.
Walter Dew, a police officer who worked on the case, later recalled seeing Mary Kelly on a regular basis on Commercial Street. This is the main thoroughfare that swept past the east end of Dorset Street.
Here's what it looked like in 1888.
The building at the right side of the photograph is the Ten bells Pub which is till going strong today. The pub in the lower left of the photograph is the Britannia, now demolished, but which stood on the north-east corner of Dorset Street where it adjoined Commercial Street.
Here is that same view along Commercial street as it appears today. 
Mary Kelly lived in Miller's Court just off Dorset Street. Here is what it looked like in 1902, 14 years after the Jack the Ripper murders.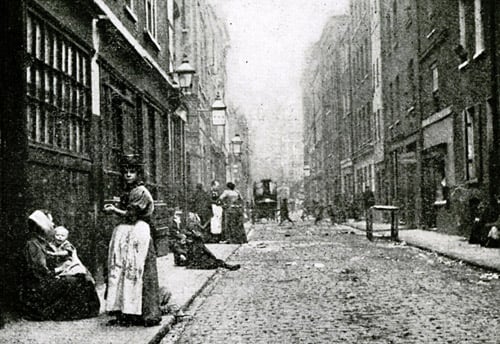 Sadly, nothing of the Victorian Dorset Street has survived, not even the name – and it is now a nameless thoroughfare lined on one side by the White's Row Car Park and on the other by warehouse and office units. This photograph of it in 2012 was, in fact, taken from the top of the car park.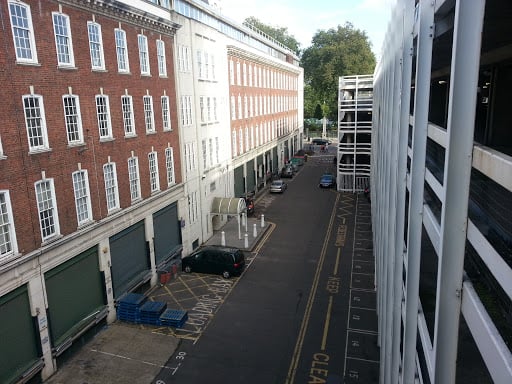 Several narrow courts and passageways led of Dorset Street and, in one of them, Miller's Court, Mary Kelly had been living for several months prior to her murder. It was in her room at 13 Miller's Court that her horrifically mutilated body was discovered on the morning of the 9th November 1888.
This is the entrance to Miller's Court as it would have appeared in 1888.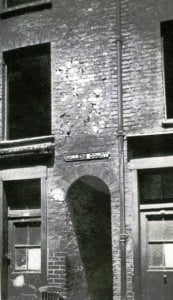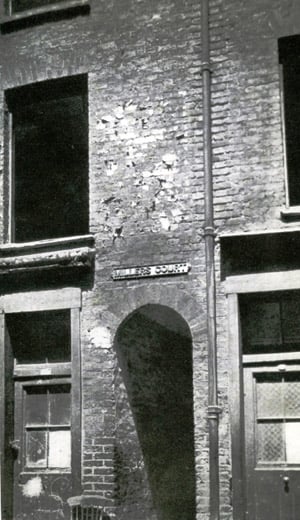 Nowadays the site of the arch is occupied by a food wholesalers. Yet, there is still a visible gap between the kerb stones in front of the wholesalers where the arch that can be seen in the photograph used to stand.
Here is that same view today.
I hope you've enjoyed this little look at Jack the Ripper's London then and now. Be sure to check back on this blog for more insights into the Jack the Ripper crimes and into the East End of London in general.