In the early hours of the morning of Saturday the 22nd of August 1891, 29-year-old Percy Greathead, having spent two weeks drinking heavily, had the bright idea of heading to the East End of London in order to visit the scenes of the Whitechapel murders.
He took a cab to Buck's Row, where he alighted, and, almost immediately, found himself embroiled in a nightmare scenario in which he found himself accused of being Jack the Ripper!
The Dundee Evening Telegraph provided its readers with an account of how the night unfolded in its edition of Monday the 24th of August 1891:-
A WHITECHAPEL SCARE
At Worship Street, London, on Saturday, Percy Greathead (29), who was described as a "gentleman" on the police sheet, living at Wood's Hotel, Furnival's Inn, Holborn, was charged with presenting a loaded revolver at Margaret Sweeney, "supposed with intent to shoot her", at Queen Ann Street, Whitechapel, at 2.30 that (Saturday) morning.
There was a good deal of excitement in Court, owing to a report having been spread that "Jack the Ripper" had been captured.
The evidence showed that the accused went for a walk down Buck's Row, Whitechapel, to see the scene of the Whitechapel crimes. He had taken a cab to Whitechapel, and left the vehicle while he went down the street so painfully celebrated. He had in his possession a revolver, and passed the woman Margaret Sweeney, who stood at her door in a bye street.
A man came towards him and made some remark to Sweeney, who retorted, "Now, then, big-head, go home. It's time you were in bed."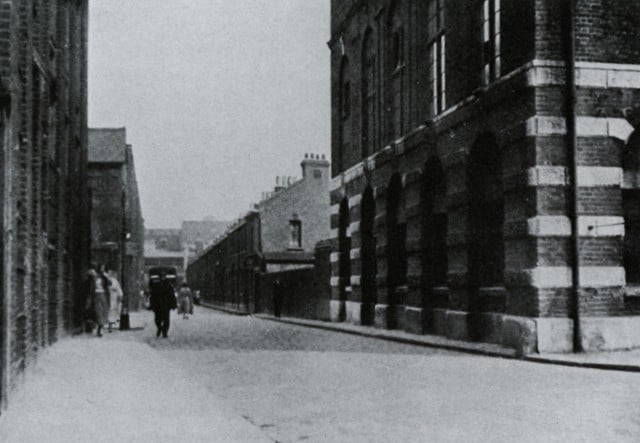 HE PRODUCED HIS REVOLVER
"Big-head" suggested "Greathead" (the prisoner's name), and caused him to think that the woman was insulting him. He turned to her, and she seems to have remarked, "Here's Jack the Ripper."
The prisoner produced his revolver, and immediately there was a scene.
A crowd rapidly gathered and Percy Greathead, pointing his revolver towards them, threatened to fire indiscriminately upon them.
A police inspector and sergeant, who were near at hand, immediately arrested him, and he was taken to Bethnal Green police station.
HIS COURT APPEARANCE
Lloyd's Weekly Newspaper carried a report on his subsequent appearance at Worship Street Police Court:-
"The prosecutrix, a young Irish woman, living in Queen Anne Street, a bye thoroughfare off Bucks Row, Whitechapel, said that, at half-past two o'clock that morning, she was standing at her door, and the prisoner passed.
A minute later he came back and put a revolver in her face. He did not say a word before he did it, but he then threatened to put a bullet in her.
He walked away, and she and a man named Hayes followed and gave the prisoner in charge.
He seemed sober.
DENNIS DONOVAN'S TESTIMONY
Dennis Donovan said that he was standing with Sweeney outside her door, and as the prisoner passed she remarked that he was a detective.
About the same time, a man who she knew spoke to her, and she called out to him, "Now then, big head, it is time you were in bed."
Then the prisoner walked back and presented a revolver at her, saying that if she meant him he would shoot her. She said she had not said anything to him, and he walked away.
They followed him and meeting a constable told him and gave the prisoner in charge.
POLICE CONSTABLE HANDLEY'S TESTIMONY
Police constable Handley deposed that he asked the prisoner if he had a revolver, and the prisoner denied it.
When taken to the station, however, he admitted that he had, and produced a six-chambered weapon.
He also admitted that he had put it to the woman's face, but denied that he had meant to shoot her.
INSPECTOR WEBB'S EVIDENCE
Inspector Webb, J Division, said that the prosecutrix, when she charged the prisoner at the station, admitted having said as he passed, "Is that Jack the Ripper?"
The revolver was fully loaded.
Upon the prisoner was also found six cartridges, and a huge bowie knife in a case.
The latter weapon which, was produced, was evidently new, and Mr. Montagu Williams directed that enquiries should be made where it was purchased.
PERCY GREATHEAD'S ACCOUNT
The prisoner said he had bought it in the Strand a day or two ago.
The revolver was evidently not a new weapon, and the prisoner's account of his night's proceedings was that having a desire to see the scene of the Whitechapel murders, he had taken a cab to Buck's-row, and leaving the vehicle there had walked down it.
He declared that he was sober, but admitted that he had been drinking heavily for some days.
His nerves were affected, and a man walked towards him and said something which he took as referring to himself. The woman Sweeney was close by, and called out, "Big head." He thought "Big head" meant "Greathead", his own name, and took it to mean that there was an attack intended on him. He also heard the remark, "Here's Jack the Ripper," and, under the influence of the moment, produced his revolver.
THE HOTEL MANAGER SPEAKS
Mr W. W. Lees, manager of Wood's Hotel, said that the prisoner had been drinking heavily for a fortnight, and had been attended by a doctor. He said that he had known the prisoner for fourteen years, and he had travelled a great deal, and was of no occupation.
He always found him quiet.
Mr Montagu Williams remanded the prisoner for a week, refusing bail."
HIS NEXT COURT APPEARANCE
On Saturday the 29th of August 1891, Percy Greathead appeared again before Mr. Montagu Williams at Worship Street Police Court.
The police had spent the week looking into his antecedents, and The Dundee Evening Telegraph gave details of their findings, as presented to the court, in its edition of Monday, August 31st, 1888:-
THE "RIPPER" SCARE IN LONDON. HEAVY PUNISHMENT
The man Percy Greathead, who is alleged to have been the cause of the "Ripper" scare in Buck's Row, Whitechapel, a week ago, was brought up on remand before Mr Montagu Williams, at Worship Street Police Court on Saturday.
The accused, who up till today was described as a "gentleman" residing at Wood's Hotel, Furnival's Inn, is fully six feet in height, and of great physique.
He is stout in the face and wears a moustache and an American "billygoat" beard.
Notwithstanding his enormous size, he is rather boyish in appearance, and while he was in the dock he stood swinging his hat in his hand and listening to the evidence.
DETECTIVE INSPECTOR HELSON
Detective Inspector Helson said that he had made inquiries as to the character of the prisoner, according to the instructions given last week by the Magistrate.
He had found that the knife discovered in the possession of the prisoner was purchased in High Holborn on the 6th of the month.
Greathead had been living in Hitcham for four or five years.
He always carried a knife, about a foot long, slung to his belt, and there was scarcely a public house in the place in which he had not fired off a revolver.
He had lived for some time by selling sweets on the beach to children, and keeping a swing.
He made his mother poor by continually getting money from her. Three weeks ago he got £40 from her to go to America with, and she thought he had gone.
HE WAS A DRUNKARD
He had been a drunkard since he was fifteen years of age.
In his youth, he was at school in Bruges, and while there he had often to be taken out of the public house quite drunk.
Mr Morris, who appeared for the defence, declared that the character just given the man accounted for what had taken place.
He had evidently been in delirium tremens on the morning that he behaved so rashly.
He went down to Whitechapel apparently for the purpose of seeing the district where the "Ripper" murders had been committed, and, being excited, foolishly pulled out his revolver.
NO STRANGER TO LONDON
Inspector Helson said that the prisoner was no stranger to London, for he used to get money frequently from his mother and come to London and stay for as long as the money lasted.
A DANGEROUS AND DESPERATE MAN
The Magistrate said that if the case went before a jury it would be necessary to prove that the accused wanted to take the woman's life. That could not be proved.
Therefore, to commit the prisoner would be practically a miscarriage of justice.
But the prisoner was a very dangerous and a very desperate man.
He went down into a district which had been rendered notorious by a series of brutal murders that had been committed there to try to terrify people out of their lives. That was what the offence amounted to.
He should require him to be bound over to keep the peace in two sureties of £200 each and his own recognisances to the extent of £400, otherwise to be locked up for twelve months.
AN UNHAPPY COINCIDENCE
The Sheffield Evening Telegraph, in an article, headlined GREATHEAD AND SOFTHEAD, which was published on the 1st of September 1891, observed that:-
It was an unhappy coincidence that as Mr. Percy Greathead was passing the door of Mrs. Sweeney, in Ann street, Whitechapel, one day last week, the lady of the house should come to the door and attempt to attract a neighbour's attention with shouts of "Big head."
Mr. Percy Greathead had no knowledge of the fact that he was in the neighbourhood of a man who possessed the nickname of "Big head," and taking the shouts as an insulting alternative of his own name, he turned on Mrs. Sweeney in anger.
Amicable explanations would doubtless have been forthcoming on both sides if Mr. Greathead had not been so silly as to produce a revolver.
Mrs. Sweeney and her neighbours resented this, and Mr. Greathead quickly found himself and his revolver under the guardianship of the police.
From the evidence, that a police officer collected, it appears that Mr. Greathead and his revolver are both well known near Sandringham, where he usually resides with his mother, and he has been known more than once to fire the weapon at random.
A WELL-ADVISED PENALTY
The magistrate was well advised in putting on Mr. Greathead's love of firearms a penalty which should prove a damper. He has to find heavy sureties for good behaviour or to go to prison for six months.
THE NUISANCE OF REVOLVERS
And so Percy Greathead left the dock, and, no doubt, returned to his long-suffering mother to seek her financial assistance once more.
His case led to calls in the press for an official clamp down on what was seen as an unhealthy craze for people to carry revolvers in the streets. Interestingly, the newspapers saw no problem with people carrying knives.
But carrying revolvers, well that just wasn't seen as a British thing to do.
As the Sheffield Evening Telegraph commented:-
"In the rough Western States a revolver may be a necessity; but, in our own country, there is no excuse for the man who carries one, except under very exceptional circumstances."