One of the great tragedies to befall the people of the East End was, just how easy it was to go from managing to scrape by to being totally destitute and finding yourself on the streets.
This was, of course, the plight that brought the majority of Jack the Ripper's victims to the streets of Whitechapel and Spitalfields, and it could be argued that they were as much the victims of circumstance as they were the victims of the unknown perpetrator of the East End atrocities.
But, for women, there really was very little that they could do should their lives suddenly fall apart; and, reading the accounts of some of the inquests that took place in the East End of London throughout the 1880's and the 1890's, you really are left feeling the sheer hopelessness that many of those poor women must have experienced when, through no fault of their own, fate struck them a savage blow and their lives took a severe downward spiral.
A SAD STORY OF DESTITUTION
One such case was reported in The St James's Gazette on Thursday, 15th November, 1894:-
Mr. Wynne E. Baxter held an inquest yesterday at the Whitechapel Coroner's Court, respecting the death of Lillian Vaughan, aged three months, who died in her mother's arms on Monday last, in Leman Street, Whitechapel.
ELIZABETH VAUGHAN'S TESTIMONY
Elizabeth Vaughan, a respectably dressed young woman, said that the deceased was her daughter.
The witness's husband, who was an electrical engineer, died in Birmingham about seven months ago.
The witness then tramped London, walking all the way, in order to find his friends, who lived at Woodford, but she was unable to do so.
Since her arrival in London, she had had no fixed residence, but had slept in the Salvation Army shelters, and at Dr. Barnardo's shelter.
SHE HAD STAYED IN HANBURY STREET
On Sunday last, she stayed in the Salvation Army shelter in Hanbury Street, Spitalfields, and left there at eight o'clock on Monday morning.
She stayed all day in the shed of the recreation ground, Hanbury-street, with the child in her arms, and all she had to eat was two slices of bread and jam.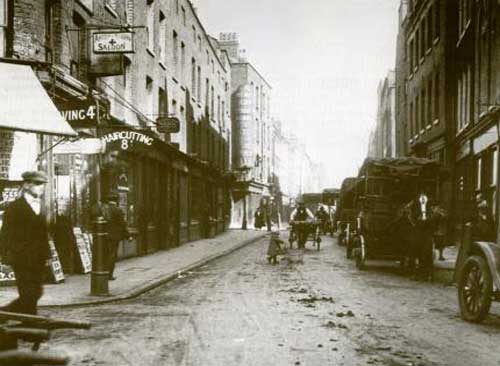 THE BABY WAS DEAD
At 7. 3o PM, whilst making her way to Dr. Barnardo's shelter in Dock Street, and when in Leman Street, she found that her child was dead.
Her only relatives were a widowed mother and a brother who lived in Mount Pleasant, King's Swinford, Staffordshire.
SHE WOULD RATHER DIE IN THE STREET
The superintendent of Dr. Barnardo's shelter stated that an offer was made to the mother in August last to place the baby in a home, but she declined, saying that her love for her child was so great that she would rather die in the street than part with it.
The baby was born in Poplar Workhouse.
The mother was a very quiet respectable woman.
DR. TWOHIG'S TESTIMONY
Dr. J. Twohig, of 1, Dock street, stated that the child was brought to him dead.
The post-mortem examination showed that the body was much emaciated, and that death was due to syncope from exhaustion, the result of insufficient nourishment and exposure.
A VERY SAD STORY
The coroner remarked that the story was a very sad one, and gave the mother a trifle for her immediate wants.
He also offered to communicate with her brother in order to see if something could not be done for her.
The jury returned a verdict of Natural Death."
I WONDER WHAT BECAME OF HER?
And so, Elizabeth Vaughan was left to grieve for what must have been an awful and painful loss; and today she is little more than a minuscule footnote whose name appears briefly in newspaper accounts of the tragedy of the death of her child.
You can almost hear the emotion in Coroner Baxter's voice when he addressed the jury of the sadness of the case, and it is warming to know that he tried to do right by the poor woman.
I hope that he did manage to communicate with her brother and that her family came to her rescue and nursed her back to health as she came to terms with what must have been an inconsolable loss.
Perhaps, she went on to marry and have more children and enjoyed a long and happy life in which the memory of the tragedy that had befallen her on the streets of the East End of London receded.
I do hope that life somehow worked out for her.