Although there is a general consensus that Jack the Ripper had five victims. it could be argued that the impact of the murders claimed other victims amongst those who were severely mentally affected by the atrocities.
Several people were, quite literally, driven mad by the Whitechapel murders, whilst others, as the following article from The Rugby Advertiser of Wednesday, 17th October 1888, illustrates were driven to end their lives by the crimes:-
SUICIDE OF MRS SODEAUX
"The particulars of a case of suicide, which took place at No. 65, Hanbury-street, Spitalfields, a house a few doors away from the spot where the unfortunate woman Annie Chapman was murdered, reached Dr. Macdonald, the coroner for North-east Middlesex.
It appears that the top floor of the address is occupied by a silk weaver named Sodeaux, his wife, and their child, aged eight years.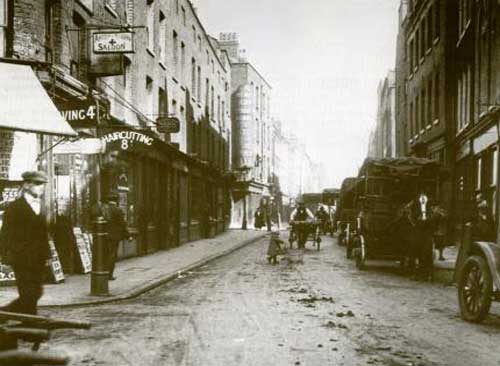 AGITATED BY THE MURDERS
For some time past Mrs. Sodeaux has been depressed, and since the perpetration of the horrible murders which have taken place in the district she has been greatly agitated.
She was found to have a razor in her possession, and it was taken from her, as it was thought she meditated suicide.
The following day she appeared to be more cheerful, and was left alone with her child.
SAID SHE WAS GOING ON AN ERRAND
Subsequently, however, she left her room, saying that she was going on an errand, but when some time had elapsed, and she did not return, her daughter went in search of her, and was horrified to find her hanging with a rope round her neck to the stair banisters.
HER LIFE MIGHT HAVE BEEN SAVED
The child ran for assistance, but no one would go up to the body, and eventually the police were called in and the body cut down.
Life was then extinct, but, as the body was quite warm, it is believed that, had assistance been rendered immediately on the discovery being made, the woman's life might have been saved."
THE SUICIDE OF JOHN SODEAUX
Tragically, the husband of the deceased lady was so severely affected by his last that, just a few months later, he too took his own life.
The Morning Post reported on the inquest into his death in its edition of Thursday, 10th January 1889:=
"Yesterday, Dr. Macdonald. M.P., the coroner for North-east Middlesex, held an inquiry at the Black Lion, Hanbury-street, Spitalfields, into the circumstances attending the death of John Sodeaux, aged 52, a silk weaver, lately living at 65, Hanbury Street, who committed suicide on Sunday morning last.
It appeared from the evidence of Charles Sodeaux, the son, who lived with his father, that on Sunday morning they lay in bed till noon.
HE HAD HUNG HIMSELF
His father got up first, and, as he was leaving the room, he said, "I shall be back in a minute; I am only just going downstairs."
A few minutes later one of the lodgers ran upstairs and told the witness that his father had hung himself.
He went to him, but he had then been cut down, and was sitting in a chair, apparently dead.
HE WANTED TO DIE
Since his wife's death three months ago his father had been greatly depressed, and had often said that he could not live without her, as life was but a trouble to him, and that some morning they would find him as they had found her.
Witness's mother committed suicide by hanging shortly after the murder which took place in Hanbury Street, in September last, she being greatly affected by it.
SUICIDE WHILE TEMPORARILY INSANE
James Taylor, a lodger in the same house, having deposed to finding Sodeaux hanging, and that witness's son cut him  down, the jury returned a verdict of suicide while temporarily insane."