William Terriss was one of the most popular actors of the Victorian era.
His actual name was William Charles James Lewin – he adopted the stage name William Terriss when, after having tried his hand at several careers, he decided to become an actor.
His good looks and commanding presence ensured that audiences flock to see him in whatever play he happened to be performing in.
THE DEATH OF WILLIAM TERRISS
In December 1897, he was appearing at the Adelphi Theatre in the play Secret Service, which had been written by the American actor William Gillette.
On the night of the 16th of December, he arrived at the stage door of the Adelphi Theatre, located in Maiden Lane, and was in the act of unlocking the door, when somebody rushed across from the opposite side of the street and stabbed him.
Terriss slumped to the ground mortally wounded.
He was carried into his dressing room, but nothing could be done for him, and, shortly before eight o'clock that evening, he died of his injuries.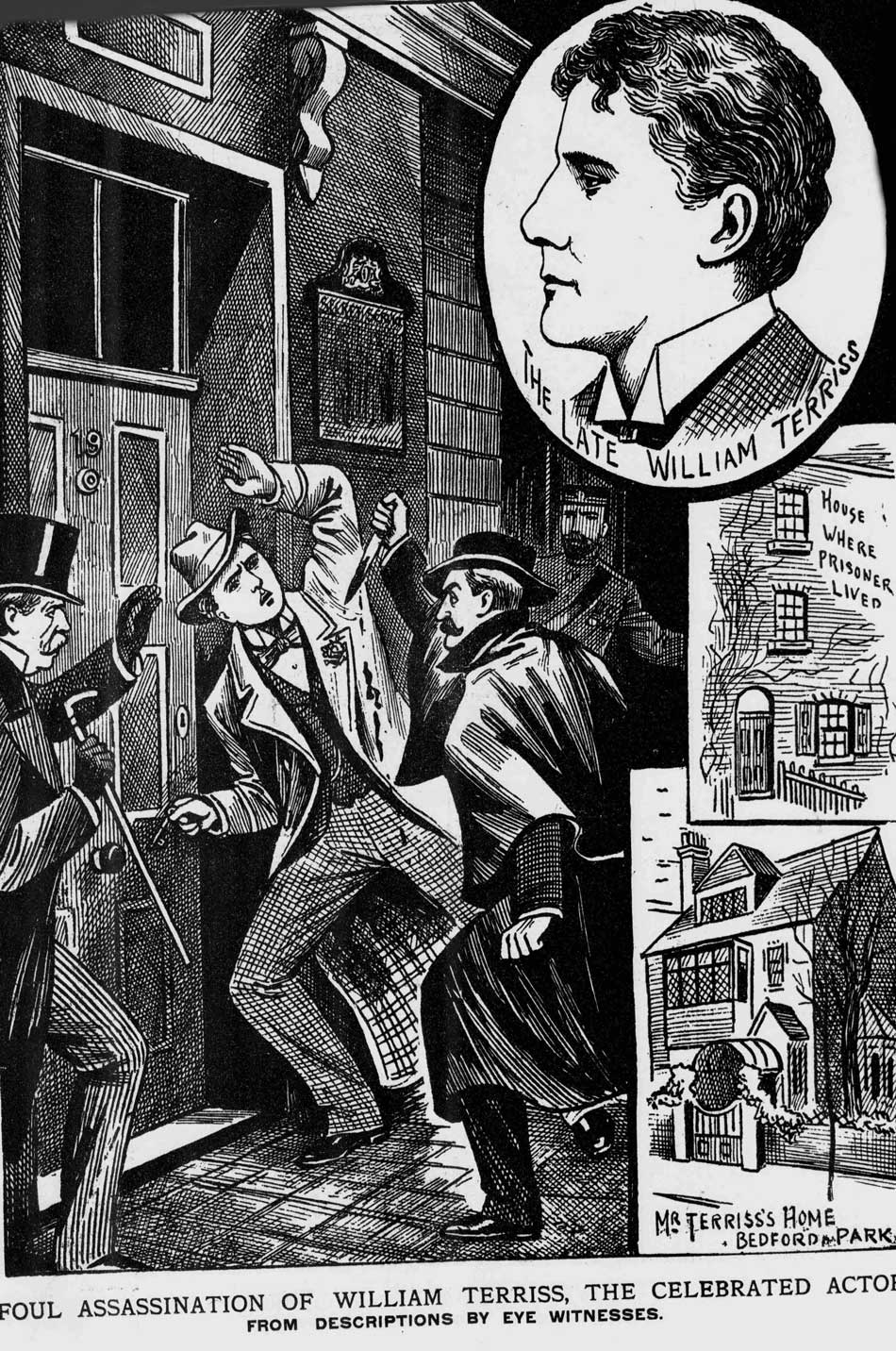 I WILL COME BACK
According to his daughter, the singer, actress, and comedian Ellaline Terris, as he lay dying William Terriss's last words were, "I will come back."
He was, most certainly true to his word.
In 1928, a visitor to London was making his way along maiden Lane, when he noticed a man who was dressed in the old-fashioned style of dress that had been popular around the turn of the century.
But, no sooner had he noticed the man than he just vanished into thin air.
Later, somebody showed him a photograph of William Terris, whom he instantly identified as the figure he had seen.
WATCH OUR VIDEO ON THE GHOST OF WILLIAM TERRISS
HAUNTINGS AT THE ADELPHI THEATRE
Since then the ghost of William Terris has been seen several times in various locations around the Adelphi Theatre – where a green plaque on the outer wall on Maiden Lane, commemorates his murder nearby.
ATTEMPTS TO HUNT THE GHOST
There have been several attempts over the years to make contact with his spirit.
In 1928, June Tripp – who had just starred in one of the first films to feature the story of the hunt for Jack the Ripper The Lodger – A Story of the London Fog – experienced his ghost in her dressing room at the theatre.
Harry Price got to hear about her encounter and he persuaded her to take part in a seance in her dressing room, although William Terriss didn't actually make any contact with the participants.
THE GHOST AT COVENT GARDEN STATION
In 1955, there were newspaper reports that William Terriss's ghost was haunting the depths of Covent Garden Underground Station.
Several of the staff encountered his wraith at sundry locations around the station, and, eventually, Eric Davey, a London Underground foreman, who was also a spiritualist, managed to contact him, although William Terriss didn't actually reveal why he was haunting Covent Garden Underground Station!