Whitechapel High Street in 1888
The Jack the Ripper Murders took place, mostly, in the vicinity of Whitechapel High Street so this thoroughfare is an extremely important location in the course of any exploration of the area.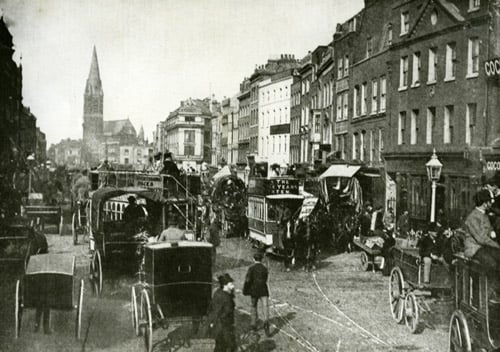 Inevitably Whitechapel High Street had changed a great deal since 1888but it is still possible to see some of the buildings that have survived the march of time, whilst with others you can look at old photographs to gain an impression of what it was like in 1888.
As you can see from the above photograph in 1888 Whitechapel High Street was a very busy thoroughfare. One or two of the older buildings have survived, such as the White Hart Pub, which we cover at the very start of our Jack the Ripper Tour.
The White Hart pub was where George Chapman, a leading suspect for the mantle of Jack the Ripper, worked as a barber in 1888. It would also have been passed by Martha Tabram, who some think was the first of Jack the Ripper's victims, in the early hours of the 8th August 1888. Her body would be discovered on a first floor landing of George Yard Buildings, a few doors away from the White Hart Pub.
One prominent landmark that has disappeared is the church of St Mary, the spire and tower of which can be seen in the background of the above photograph. Our Jack the Ripper Walks start just a few steps away from where this church once stood, and one of the first things we tell our groups is that in the Middle Ages this church was a lime-washed building, making it a very striking local landmark. In time, its gleaming white appearance led to its being referred to as the "Whitechapel," and, in time, it gave this name to the area that surrounded it.