EAST LONDON CEMETERY – GRAVE OF ELIZABETH STRIDE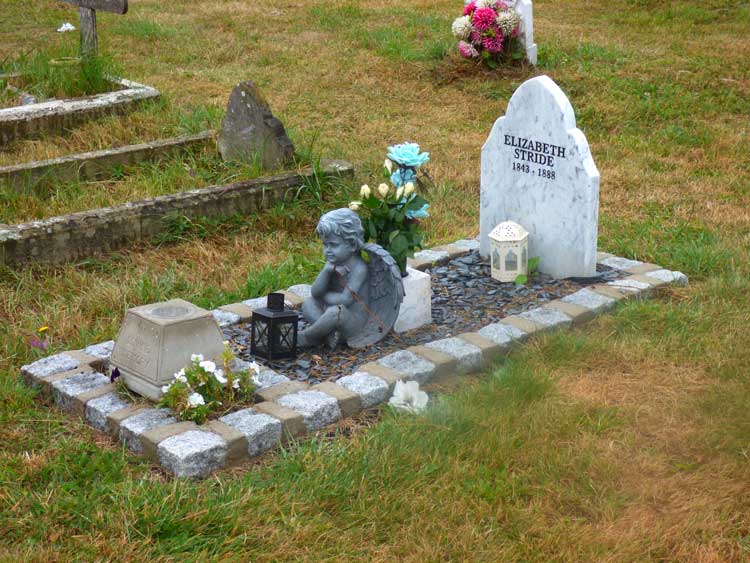 One of the more poignant ways to get a feel for the plight of the poor Ripper victims is to visit their graves. Although most of the burial sites of the Ripper victims have been reused and plaques erected in their place, the grave of Elizabeth Stride, the third Ripper victim, is one that still remains today.
BOOK A JACK THE RIPPER TOUR WITH US TODAY
How is the East London Cemetery connected to the Jack the Ripper crimes?
Elizabeth Stride was buried at the East London Cemetery on 6 October 1888. She was the third of five confirmed victims of Jack the Ripper, murdered on 30 September 1888, in Dutfield Yard, Berner Street.
It is believed the Ripper was disturbed during the attack on, and although the injuries were sufficient to kill her, the Ripper had been unable to mutilate her body in the way that had now become a trademark of the murders. So, he went on to attack another local woman, Catherine Eddowes, a little more than an hour later, before going to ground.
The sparse funeral of Elizabeth Stride was attended by few mourners and the cost was met by the undertaker, Mr Hawkes.
Where is the East London Cemetery?
E16 4LG
The East London Cemetery is situated on Grange Road, Plaistow, in the London Borough of Newham, East London. From the centre of the city, the quickest way to travel to the cemetery is to take the Northern Line or Victoria Line from Charing Cross to Embankment. At Embankment, take the District Line eastbound to Plaistow. Exit the tube at Plaistow and walk 1-minute to the bus stop on Plaistow Road. Take the 69 Canning Town bus for five stops and get off at the East London Cemetery stop.   
Once you're inside the cemetery gates, keep straight ahead towards the Celtic cross war memorial, turn left along the path and follow the main path as it swings round to the right. After you've passed two grey bins on your left, bear left along a gravel path and there, a little way along, you will arrive at the grave of Elizabeth Stride.   
Information and Facts about East London Cemetery
The East London Cemetery was founded in 1871 to meet the expanding demand from the City and the surrounding areas of East London. 
Along with Elizabeth Stride, other notable people to be buried in the cemetery include the actress Queenie Watts (1923 – 1980), Karl Hans Lody, executed by firing squad in the Tower of London for espionage, and actor Jack Warner (1895 – 1981), perhaps best remembered as the dependable English Bobby, Dixon of Dock Green.