There is a good chance that you have never heard of Alexander "Ally" Sloper.
However, had you mentioned his name to many residents of the East End of London in 1888, and, for that matter, to people all over the country between 1884 and 1916, the majority of them would have instantly recognised the name. He was, to put it bluntly, a superstar of the late Victorian era, and, as such, he was extremely popular with, not only the working classes, but also – albeit slightly surreptitiously – the middle classes as well.
So, please permit me to introduce you to the the irrepressible Mr. Ally Sloper.
ALLY SLOPER – COMIC CHARACTER
Just in case you haven't worked it out from the above illustration, Ally Sloper was a fictional character who appeared as a British comic strip between 1867 and 1916. But he wasn't just any old comic character. Oh no, no, no. In fact he was one of the earliest comic strip characters, and he holds the distinction of being one of the very first recurring characters to appear in comics – he wasn't the first, as is sometimes claimed, but he was certainly the first to be heavily featured and promoted.
He was created in 1867 for the magazine Judy by writer and cartoonist Charles H. Ross (1835 – 1897), and was illustrated by Ross's French-born wife Emilie de Tessier (1850 – 1890) – albeit, she used the pseudonym Marie Du Val.
He was a Whitechapel born red-nosed idle-schemer who would often be depicted "sloping" through alleyways and backstreet thoroughfares – his trademark long white hat perched awkwardly atop his bulbous head  as he attempted to evade his landlord and other creditors, whilst also taking the time to enjoy all manner of pursuits.
ALLY SLOPER'S HALF HOLIDAY
In the early 1880s, Ross sold the rights to his character to Gilbert Dalziel (1853-1930), who decided that, since Ally had proved so popular with readers of Judy, he should be given his own publication; and thus, on the 3rd of May, 1884, the first edition of Ally Sloper's Half Holiday was published.
The "Half Holiday" of the title referred to the Victorian practice of allowing workers to finish work at lunchtime on Saturdays – a practice which, incidentally, was responsible for the kick-off times of that other popular working class activity, football matches.
Published weekly from "The Sloperies, 99 Shoe Lane, EC.", Sloper would appear on the cover of almost every issue, and thus his features became familiar to and popular with working class households across the country.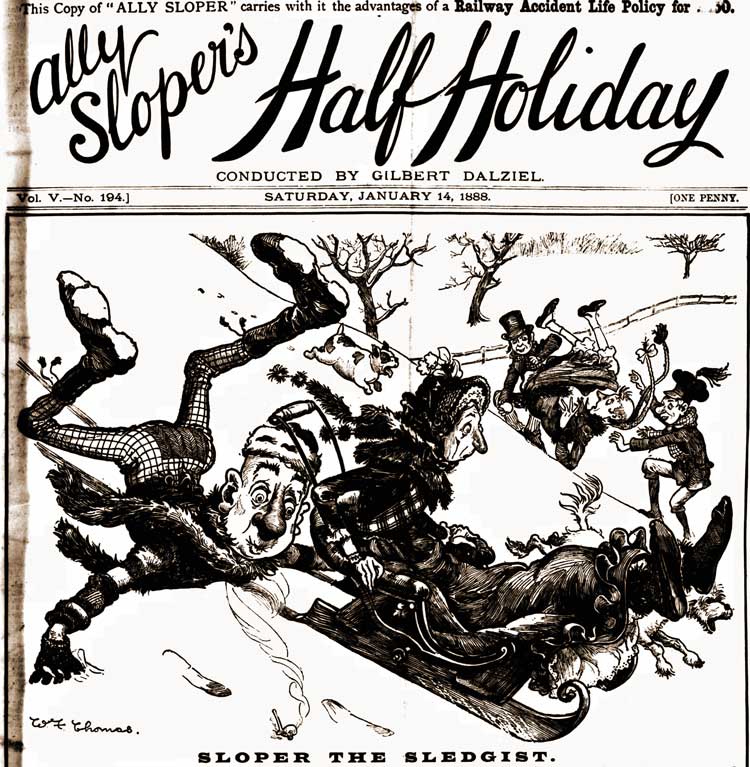 AN ECLECTIC MIX
The publication provided readers with an entertaining mixture of cartoon strips and prose stories, and the format became so popular that it revolutionised the way that funny periodicals were presented and marketed.
It has been estimated that sales of the Half Holiday were often as high as 350,000 per issue, and it wasn't long before the magazine was dubbing itself "the largest selling paper in the world."
HUGELY POPULAR
The character of Ally Sloper became massively popular, and he had soon stepped out of the pages of the comic that had made his name, and began appearing in all forms of popular culture.
He was to be seen at music halls; ventriloquists dummies and small puppets began appearing in his image – indeed, for a time, Sloper and his wife began appearing at sideshows in place of Punch and Judy.
A race horse was named after him, and there was even a "Friend Of Sloper (F.O.S) Award of Merit", which could be conferred on writers, artists, statesmen, politicians, poets, as well as on magicians, ventriloquists, dancers, singers and other stage performers.
He was, quite simply, a superstar of the age – albeit a totally fictitious one.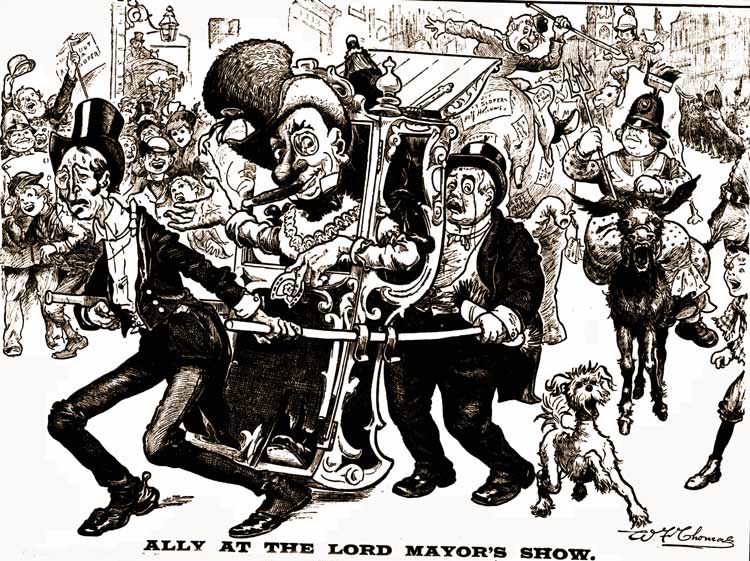 THE SLOPER SPECIAL CONSTABLE
Ally could also be counted on to comment upon pollical issues of the day that were of interest to the publication's readership.
Thus, when in November 1887, the so-called "Bloody Sunday" riots occurred in Trafalgar Square, Sloper appeared on the cover of the Saturday, 3rd of December, 1887 issue in police attire directing his "special Constables."
The caption beneath the cartoon read:-
"Of course you saw that Papa and other members of the Family had done their little swear, and were duly enrolled as Specials. Acting under instructions received from Sir Charles Warren, Papa paraded his Division in Trafalgar Square, and I have it on the authority of a military friend of mine, that a finer body of men could not be seen in Europe. My friend says that were such men engaged in conflict, it would be one of the most awful fights of modern times."
SIR CHARLES WARREN, F.O.S.
Throughout 1888, Sir Charles Warren became a favoured target for the editorial team of the Half Holiday, and he graced their pages on several occasions throughout the year, having been created a Friend of Sloper, and awarded the 'Sloper Order Of Merit".
The following article appeared on Saturday, 10th of March, 1888:-
"Although we have searched everywhere, we have found it impossible to trace the origin of Sir Charles Warren's birth.
Perhaps he was not born at all, perhaps he was – at any rate, we first hear of him after a terrible thunderstorm.
He was then seen standing like the Fiend Incarnate in the midst of Trafalgar Square. In vain did the authorities strive to remove him. His eyes flashed fire, a look which seemed to threaten sullen death came o'er his countenance, and the police retreated, dumbfounded.
A TERROR TO BOBBYDOM
From that time, Warren dogged the footsteps of the police day and night.
Not even when in the company of their dear cookies were they safe.
Such a terror did he become to Bobbydom, that the Government, through A. SLOPER, in order to secure his friendship with the police, almost forced the Chief Commissionership upon him.
Chiefly because he's a Square one, he was created F.O.S., and the 'Sloper Award of Merit' presented to him, November 14th, 1885." – Debrett improved."
ALLY SLOPER AND JACK THE RIPPER
The Half Holiday didn't concern itself too much in commenting on the intricacies of the investigation into the Whitechapel murders and, instead, it reserved its commentary for issues that might be of interest to its working-class readership.
Thus, on the 6th of October, 1888, when many were up in arms at the government's refusal to offer a reward for information that might lead to the killer's apprehension, Ally gave his readers the following article:-
ALLY-CAMPANE
"The Home Secretary has decided not to offer a reward for the apprehension of the Whitechapel murderer.
The opinion of the Government officials is that rewards in cases of this kind do more harm than good. On this point many people differ with Mr. Henry Matthews, F.O.S., amongst them being A. Sloper.
The Eminent often thinks of the brutal wretch who is still at large and the other night, after a very heavy tripe supper, and an unusual quantity of "Unsweetened," he dreamed a dream. He dreamt that he dwelt in Marble Halls, and that he was summoned by Sir Charles Warren to go out on night duty as a bobby, and discover the perpetrator of these awful crimes.
A GOVERNMENT REWARD
Of course he went immediately, and prowling down a fearful slum in the East-end of London, his lantern shone upon a bill with £500 printed in large letters upon it.
At the first glance, he said, "Hullo, here's a chance of my getting a Government reward by finding out the murderer of Dark Annie."
A PAINFUL ANNOUNCEMENT
But he soon found out his mistake, it was no Government reward at all, but only one of his own "Half Holiday" posters.
With tears in his eyes at the thought that Government oof would not find its way into his pocket, he read the following extremely painful announcement:-
Instructions commencing with the "HALF-HOLIDAY" for August 4th, 1888, cut out the first 'Paragraph in "Ally-Campane" from each week's paper, and keep them by you until January 26th, 1889. when you will have twenty-six in your possession.
Then post the twenty six cuttings, with your name and address, to "Sloper's £500 competition" " The Sloperies," 99 Shoe Lane, Fleet Street, London, E.C., and look in the number for February 2nd, 1889, for the name and address of the lucky winner.
Don't on any account post any of the cuttings until you have the twenty-six – that is, one from each week's week's HALF-HOLIDAY, commencing August 4th, 1888, and ending January 26th, 1889."
"ALLY SLOPER" IN THE DOCK
It is also intriguing to note how many people were in the habit of impersonating him, some of whom managed to find themselves in court when they let their impersonations go a little too far.
The Blackburn Standard, for example, gave an example of an enthusiastic "Ally" mimic  in its edition of  Saturday, 3rd January, 1891:-
"Ally Sloper " was in a sad plight as he appeared at Marylebone on Thursday to answer a charge of assaulting a policeman. He carried his "official" hat in his hand, but his nose was conspicuous by its absence.
The defendant gave the name of Charles A, Garden, aged 39, and described himself as a bailiff.
On New Year's Eve, he patronised the Marylebone Theatre, rigged out in the make-up of "Ally Sloper."
According to the evidence, he carried out his impersonation most conscientiously, for his conduct was declared to have been "extraordinary."
The manager of the house, however, suspecting that his visitor was not a properly authorised representative of Sloper's Half-Holiday, spoke to Police-sergeant Brunsden, who asked Garden for his credentials.
KNOCKED HIS NOSE OFF
Garden now wanted to know why the sergeant, who was in ordinary clothes, did not explain at the time that he was a police officer.
Brunsden retorted that he did explain, and, in order to prove the point, said the explanation was given just after someone had knocked "Ally's" nose off the prisoner's face. (Loud laughter.)
AN OFFICIAL WITNESS
A representative of "Ally Sloper" was called as a witness, and he said that the prisoner had been in the employ of the firm, but he was not now on the staff.
Mr. Cooke fined the accused seven shillings or, in default, seven days' imprisonment.
"Ally," having adjusted his white hat on his head, left the court amidst the laughter of the public present."
THE DEATH OF CHARLES H. ROSS
Allie's creator, Charles H. Ross, died on Tuesday, 12th October 1897, and newspapers countrywide remembered him mostly for his renowned comic strip creation.
The Hartlepool Northern Daily Mail, on Tuesday, 19th October, 1897, in the following article, provided information on the origins of and the inspiration for Ally Soper:-
"The original of "Ally Sloper," Mr Charles H. Ross died last Tuesday evening, after a long and painful illness.
It is as the creator of Ally Sloper that Mr Ross will be chiefly remembered.
A correspondent states that the prototype of Ally Sloper was an old "extra" clerk of Customs, who died many years ago.
The old clerk, who was a constant frequenter of the Horns at Kennington – where in all probability Mr Ross dropped across him – was known among his associates as "The Master Mind." He had a head of curious shape, of which he was inordinately proud, and a nose which was the germ of the Sloperian grog-blossom.
Like Ally, too, he had a mighty capacity for absorbing alcoholic liquor, and a particular fondness for "unsweetened," which amounted to a fascination."
THE HOLIDAY COMES TO AN END
From 1890 onwards, Ally Sloper's immense popularity meant that numerous rivals began cashing in on his success, and similar characters began appearing in the popular press, especially in the titles owned by press baron Alfred Harmsworth, later Lord Northcliffe.
Ally managed to hold his own into the 20th century, but, by 1916, Northcliffe's more modern style, coupled with the fact that his publications cost half-a-penny – as opposed to Sloper's one penny – saw sales decline, and, in 1916, the trail-blazing bulbous headed character called it a day, and time was called on the Half Holiday on the 9th of September 1916, after 1,679 issues.
Although several attempts were made to revive the publication, none of them managed to achieve the publication's former popularity and soon Ally Sloper had faded from memory, and the character, that had been such a superstar of the Victorian age was soon forgotten.
ALLY SLOPER'S LEGACY
However, Sloper's legacy is there to be seen for those who know where to look.
For example, Charlie Chaplin is recorded as remembering how the comics he read as a child in London inspired his 'Little Tramp' character; and it is believed – and the evidence is there for the looking – that W.C. Fields big-nosed comedian, wearing a top hat, and cut-away coat and collar, was borrowed directly from the Ally Soper character.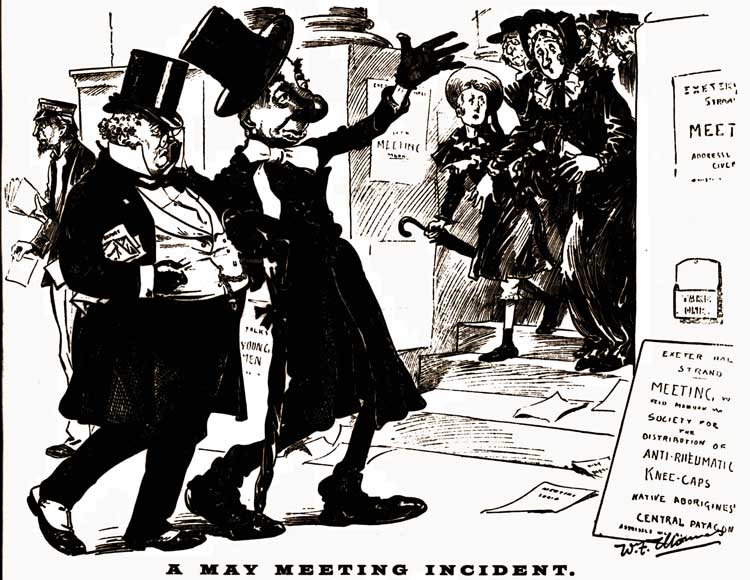 FAREWELL ALLY SLOPER
So, that's who Ally Sloper was! Yes, it is a name that you might not recognised instantly, but you will, no doubt have realised you were familiar with the concept that he fathered.
If you grew up, or still enjoy, reading the likes of Billy Bunter, Dennis the Menace, Desperate Dan or any other regular comic strip character, then you will have viewed the legacy of Ally Sloper, and now you know!