A constant theme that runs through the Victorian newspapers around the time of the Whitechapel murders was, did the depiction of violent crime in popular culture have an effect on the mental health of some of the more vulnerable members of society?
There were newspaper reports, for example of people who had, quite literally, been driven mad by Jack the Ripper.
One popular entertainment that was singled out for extensive criticism was the way in which waxworks sensationalised violent crime, and there were numerous calls in the press to tone down these ghoulish exhibitions.
THE FLORENCE MAYBRICK CASE
One such case of someone who was "afflicted" by the experience of having visited a waxworks was extensively reported in the newspapers in March and April, 1890.
In 1889, Florence Maybrick, had been tried and found guilty of having poisoned her husband James Maybrick. Although she was sentenced to death, that sentence was commuted to one of life in prison, and her case had resulted in a huge about of media coverage.
WAXWORK EFFIGIES
The proprietors of the various waxworks up and down the country were quick to take note of the public interest in the Maybrick case and, ever eager to cash in on such a sensational crime, by 1890 Florence Mayrick was being depicted in wax in numerous cities, amongst them one in Oldham Street, in Manchester.
Today, it is, of course, impossible to judge the accuracy of the depictions, but the aforementioned waxworks appears to have displayed a realistic and "working" model.
On Thursday, 27th March, 1890, the Oldham Street waxworks was visited by a servant girl by the name of Annie Perry, and, as can be seen from the following report, which appeared in The Manchester Evening News, on Monday, 31st March, 1890, the experience had a severe effect on her:-
THE ATTEMPTED SUICIDE OF A SERVANT
IN BROUGHTON THE RESULT OF MORBID EXHIBITIONS
At the Salford Police Court this morning, before Mr. J. Makinson, stipendiary, the girl, Annie Perry, who was before the court on Saturday, was again brought up on a charge of attempting to commit suicide.
WALKED INTO THE RIVER
About six o'clock on Saturday morning, the prisoner was seen by two men to walk deliberately into the River Irwell, at the bottom of Heath-street, Lower Broughton, and as the water was not deep enough she sat down in it, and would have been drowned had not the men rescued her.
The Prisoner is a domestic servant in Great Cheetham-street.
Superintendent Hallam said that the prisoner, prior to leaving her mistress's house, was very strange in her manner, stating that she was being pursued by an ugly woman.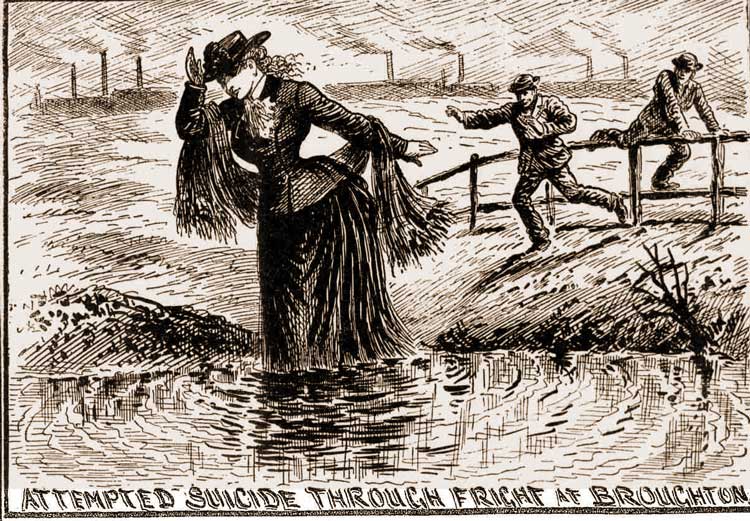 WENT TO A WAXWORK SHOW
It seemed that on Thursday night she went to a waxwork show in Oldham-street, Manchester, and there saw a model of Mrs. Maybrick.
The model was a working one, and represented Mrs. Maybrick in the act of giving poison.
This appeared to have so worked upon the girl's mind that she did nothing but talk about it, and no doubt accounted for her delusion that "an ugly woman was following her."
SCREAMING IN HER BEDROOM
Mr. Sutcliffe, the girl's employer, said she was a good servant.
On Friday night she was heard screaming in her bedroom, and was talking to an imaginary woman.
They succeeded in pacifying her, but later she walked downstairs apparently in her sleep, and managed to escape from the house.
The Prisoner was again remanded.
ATTEMPTED SUICIDE BY A SERVANT
The Manchester Courier, on that same day, Monday, 31st March, 1890, published a few more details on the case:-
"A respectably-dressed girl, named Annie Perry, about 20 years of age, in service at Mrs. Sutcliffe, 193, Great Cheetham Street, Higher Broughton, was charged before Mr. Alderman Makinson and Mr. G. W. Gadd, at the Salford Police Court, on Saturday morning, with attempting to commit suicide in the River Irwell.
About six o'clock the same morning two men saw her walk into the river at the end of Heath-street. She Came out again, but again walked in, and sat down in two or three feet of water.
The men then went and fetched hor out.
NONE THE WORSE FOR IT
Except for a thorough soaking, she was none the worse for her singular conduct.
She was taken to the police station, and there gave her name and address.
It appears that she was all right to Friday night, when she became strange in her manner, and was under the delusion that women were pursuing her. The family could not control her.
SHE HAD NO TROUBLE
She now stated that she knew what she was doing when she went into the river, but she did not know what prompted her act. She had no trouble.
She was remanded until Wednesday for examination, and in order that her parents in Staffordshire may be communicated with."
HER FINAL COURT APPEARANCE
Annie Perry's final court appearance was on the morning of Tuesday, 1st April, 1890, and, that night, The Manchester Evening News, published the following article concerning the outcome of the case:-
"The girl Annie Perry, 19, a domestic servant, who attempted to drown herself on Saturday morning, was again brought before Mr. Makinson, stipendiary, at the Salford Police Court this morning.
She appeared to be very penitent, and, on promising not to repeat the offence, she was discharged, leaving the court in the charge of her sister, who promised to take care of her."