In early October, 1888, the London newspapers were reporting on two new Whitechapel murders (well, one Whitechapel and one City of London) that had taken place in the early hours of the last day of September.
At 1am on the 30th of September the body of Elizabeth Stride had been found in a yard off Berner Street, in the East End of London.
Fort-five minutes later, the body of Catherine Eddowes had been discovered in a dark corner of Mitre Square, located on the eastern fringe of the City of London.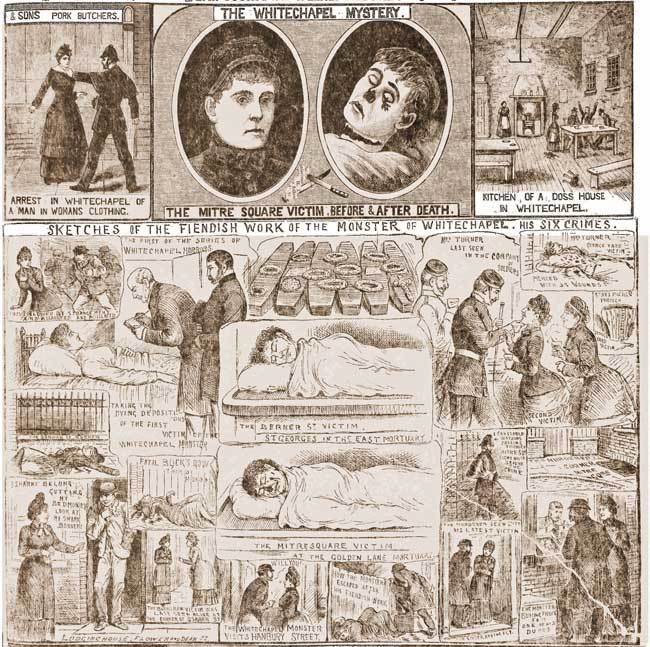 JACK THE RIPPER HAD ARRIVED
In addition, the newspapers were reporting on a mysterious letter which had been sent to the head of a London news agency, the author of which claimed to have actually been the perpetrator of the East End atrocities.
The letter bore the chilling signature "Jack the Ripper" and from that point on the killer was given the name that would make his series of crimes the most notorious murder spree in criminal history.
As with the previous murders of Mary Nichols and Annie Chapman, the newspapers went into a great deal of detail about the inquests into the deaths of the two latest victims, and, in so doing, we are able to gain little glimpses of the lifestyles that they led whilst, at the same time, learning a little bit about the type of person with whom they associated.
CATHERINE EDDOWES INQUEST
Lloyd's Weekly London Newspaper on Sunday October 7th, 1888, published the following report on the opening day of the inquest into the death of Catherine Eddowes:-
"At the City mortuary, Golden-lane, on Thursday, Dr. Langham, the City coroner, opened an inquest on the body of the woman who was found murdered and horribly mutilated in Mitre-square, Aldgate, shortly before two o'clock on Sunday morning.
The deceased was described as Kate Eddowes, alias Mrs. Conway, alias Mrs. Kelly.
The proceedings were watched on behalf of the authorities by Major Smith, Acting-commissioner of Police; Superintendent Foster, Detective-inspector McWilliams, and Mr. Crawford, the City solicitor."
CATHERINE'S SISTER
The article then went on to mention the sister of Catherine Eddowes, who had identified her, and who gave a little information about her sister's personal life:-
"Eliza Gold, of Thrawl-street, Spitalfields, said she had seen the body of the deceased, and identified it as that of her sister. Her name was Catherine Eddowes, and she was 43 years of age. She had never been married, but had "lived with a gentleman." His name was Kelly.
It was four or five months since she saw her last.
Deceased earned a living by hawking, and was a woman of sober habits.
Prior to living with Kelly she had lived with a man named Conway. She lived with Kelly several years. She also lived with Conway some years, and had two children by him. Witness could not say whether Conway was still alive. He was a pensioner, and used to go out hawking. She did not know if they parted on good or bad terms, or whether they had seen each other since they parted. She was quite certain that the body of the deceased was that of her sister.
In answer to the City solicitor, witness said she had not seen Conway for seven or eight years. It was three or four years since she saw her sister with Kelly. They were then living on friendly terms. They lived at 55, Flower and Dean-street. From then to seeing her in the mortuary she had not seen her."
THE POVERTY OF THE DEAD WOMAN
The next witness was John Kelly, the man with whom Catherine Eddowes had been involved up to the time of her murder:-
"John Kelly, of 55, Flower and Dean-street, said he was a labourer, and earned a living jobbing about the markets. He recognised the body of the deceased. He knew her as Catherine Conway, and had known her for seven years. They had lived together during that time at a lodging-house kept by John Cooney. She used to sell a few things about the street. He saw her last at two o'clock on Saturday afternoon in Houndsditch, and left her there on very good terms.
The last words she said were that she was going to try to find her daughter Annie in Bermondsey. Annie was a daughter she had had by Conway. She promised to return by four, not later, but she did not return.
LOCKED UP IN THE POLICE STATION
On inquiring about he heard she had been locked up in Bishopsgate station.
An old woman working in the lane told him she had seen her taken along Houudsditch by two police, but he did not go to the police-station to inquire, making sure she would be out in the morning, as it was in the City.
He was told it was "a drop of drink" she was locked up for. He had never known that she went out for immoral purposes. She was not in the habit of drinking to excess – at least, "only slightly."
BORROWING MONEY FROM HER DAUGHTER
When he left her she had not any money. She was going to her daughter's with a view to trying to get some money. She was not in the habit of doing so, but went on this occasion because they had nothing to pay for lodgings with. It had happened that they had no money, and had been obliged to walk about the streets all night. It was to prevent this on Saturday night that she went to try to find her daughter.
He did not know if she had seen Conway of late. He had never seen the man at all.
In answer to the foreman of the jury, witness said deceased usually returned to the lodging-house about eight or nine o'clock; and in answer to the City solicitor he said he had not heard with whom she had been drinking on Saturday afternoon. She had never stayed out all night, except on one occasion when they had a few words and she left him.
They were not together on Friday night. Deceased slept in the casual ward at Mile-end workhouse, and witness slept at the lodging-house. They were not together at the lodging-house any night that week.
THEY HAD BEEN HOP PICKING
In the early part of the week they were both hop-picking in Kent.
They had earned no money and walked back to London, arriving on Thursday, and sleeping at the casual ward in Shoe-lane.
They were together all Friday until the afternoon, when he earned sixpence.
He wanted her to remain with him, but she insisted on his going to the lodging-house with the money whilst she went to Mile-end.
THEY PAWNED HIS BOOTS
He met her about eight o'clock next morning, and was surprised to see her so early. They pawned a pair of boots for half-a-crown on Saturday morning.
She was quite sober when she left him.
They spent the half-crown on drink and food, and when she left him they had no money. They parted without angry words.
Afterwards, in answer to Mr. Crawford, he said it might have been Friday the boots were pawned.
Deceased pawned them, and he stood outside in his bare feet. It was Friday on the pawnticket, but the witness admitted he was a little bewildered, and did not remember very well."
SEVEN YEARS AT A LODGING HOUESE
The next witness was the deputy keeper of the lodging house at which Catherine Eddowes had been in the habit of staying at for the previous few years:-
"Frederick William Wilkinson, deputy of the lodging-house in Flower and Dean-street, also identified the body. She bad lived with Kelly for about seven years at the lodging-house.
They were always on good terms, though sometimes they had a few words when Kate was in drink now and again.
She got a living by hawking and cleaning. She was a very jolly woman. They were always pretty regular in their payments.
He had never seen Kelly the worse for drink.
Kate was in the lodging-house on Friday afternoon after returning from Kent.
She went out in the evening and he did not see her again. As far as he knew she did not walk the streets at night, but always returned home between 10 and 11 o'clock; and he had never beard of her being intimate with anyone but Kelly.
SHE WAS MARRIED TO CONWAY
She had stated that she was married to Conway, and that her name Conway was "bought and paid for," meaning that she was really married.
The price of a single bed was 4 pence and of a double 8 pence.
They were away hopping for four or five weeks.
By a Juror: If they had gone to the lodging house on Friday he would have trusted them, he had done so before."