In today's blog I thought I'd just do a simple round up of the people whose names crop up in connection to the Jack the Ripper murders of 1888.
JOHN MCCARTHY
John McCarthy was the landlord of Jack the Ripper's final victim Mary Kelly. He was the second person to arrive at the scene of the crime and, when asked to describe what he saw, he told a journalist that it looked "more like the work of a devil than the work of a man."
INSPECTOR EDMUND REID
Edmund Reid was the head of the local Criminal Investigation Department during the Whitechapel Murders and his name features prominently in newspapers reports on the killings. He appears to have disagreed with the concept of the canonical five victims, believing that Frances Coles was the last of nine victims by the same hand. However, there is evidnce to suggest that he was not kept abreast of many of the pertinent facts by his superiors at Scotland Yard.
T. P. O'CONNOR
O'Connor was the proprietor of The Star Newspaper and a staunch opponent of Metropolitan Police Commissioner Sir Charles Warren. Throughout the Jack the Ripper murders he wasted no opportunity to attack the Commissioner in the pages of the newspaper. It was The Star which, more than any other paper, promoted the early suspect "Leather Apron," and did so in such lurid terms that some came to suspect that the paper had actually invented him! The Star reported extensively on the murders and was rewarded with dramatic increases in circulation in the wake of each one of the murders.
Mr GEORGE LUSK
Local builder George Lusk was the president of the local vigilance committee which had been set up to patrol the streets in order to assist the police, but to also petition the authorities to offer a reward for information that might lead to the perpetrators apprehension. He is best known as the recipient of the notorious "From Hell" letter.
INSPECTOR ABBERLINE
Abberline is, today, probably the best known of the detectives who investigated the Whitechapel Murders, due largely to his portrayal by Johnny Depp in the film From Hell and by Michael Caine in the television drama on the crimes. Abberline had been promoted from H – Division – the local police force in the area – the previous year and had moved to A – Division at Scotland Yard. However, with the onslaught of the murders he was brought back to the area to take charge of the on the ground investigation because he knew the district so well.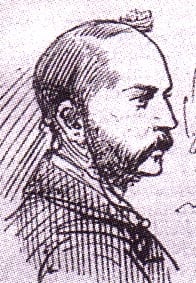 CHIEF INSPECTOR DONALD SUTHERLAND SWANSON
Very early on in the case Swanson was tasked with assessing the information that came in during the investigation into the Whitechapel Murders. He went on to enquire an almost encyclopaedic knowledge of the crimes and had what would, toady, be referred to as the big picture. He would appear to have favoured Aaron Kosminki as the likeliest of the suspects.