Today sees the launch of another of our popular Jack the Ripper quizzes. This cunning conundrum challenges participants to answer 10 questions of the facts, locations ans people connected with the murder of Mary Kelly, which took place on 9th November 1888.
You can, if you wish, begin the quiz immediately by simply entering your name into the box below. We only ask for your name so that we can award you a personalised certificate, which will detail the fact you have completed the quiz and giving your score. You can, therefore, enter any name you wish, or you can just enter your first name, as the only person who will see the certificate will be yourself and anyone you choose to share your results with.
However, if you would like a bit of information about how the quiz is structured then you can scroll down the page to read full guidelines on partaking in and completing the Mary Kelly Murder Quiz.
HOW TO DO THE QUIZ
To begin the quiz, simply enter your name into the box at the foot of the page and press start.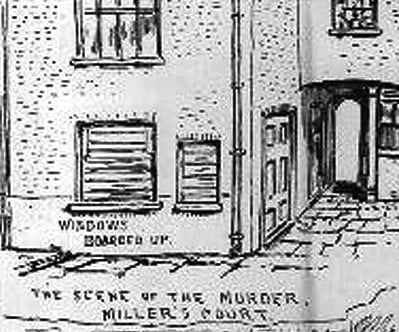 The ten questions will then be presented to you one at a time. They are a combination of True or False or Multi-Choice answers so if you take your time and think about them, you might well be one of our one hundred percenters!
Remember that it is not actually necessary to enter you real name as an alias will suffice!
The reason we ask your name is so that we can put it on the certificate that we award you at the end of the quiz! The certificate, which is given by our esteemed Department of Ripperology will have on it the name you use plus the score you manage to achieve.
You get the certificate no matter high – or low(!) your final score.
If, for any reason, you encounter any problems when starting the quiz, just scroll down to the foot of the page and click the white text link that reads "The Mary Kelly Murder Quiz." This will take you directly to the quiz.
As ever, we'd love to see how you did, so please feel free to share your certificate on our Facebook page.
When you feel that you are ready to start, simply put your name into the box below, take a deep breath, and see how many of the questions you can get right.
Best of luck.
IF YOU ENCOUNTER ANY PROBLEMS STARTING THE QUIZ, SIMPLY SCROLL TO THE BOTTOM OF THE PAGE AND CLICK ON THE MARY KELLY MURDER QUIZ WHITE TEXT LINK.