Despite its reputation for vice and violence, not to mention the endemic poverty that was to be found within its boundaries, Whitechapel was a must-see destination on the itineraries of many Americans who visited Victorian London.
One American visitor who paid a visit to the district was American Judge D. P. Baldwin, who was so impressed by what he found there that, on his return to the United States, he was moved to write a letter to The Indianapolis News extolling the virtues – whilst also mentioning some of the horrors – of the area.
The newspaper published his letter in its edition of Tuesday, September 8th, 1891:-
LIGHT ON WHITECHAPEL
JUDGE BALDWIN VIEWS THE EAST END OF LONDON
"To the average American, the term "Whitechapel" at once suggests Jack the Ripper and his eight murdered women.
Accordingly, I bade farewell to wife and friends, and wanted an omnibus whose destination was the confines of this much-written-up district.
As luck would have it, I met on the bus a pleasant-spoken gentleman, who, as soon as my accent disclosed my race, asked me if I ever heard of a city called Lafayette.
"In what States?" asked I.
"I don't know," said he, "but have you not a State called "Indiana?"
"Yes," replied I.
"Well," was the response, "I have a brother there."
This, of course, broke the ice, and we fell into a pleasant talk.
THE MCKINLEY TARIFF
I had heard so much about the sorrow and anger of England about the McKinley tariff – [The McKinley Tariff, was an act of the United States Congress, framed by Representative William McKinley, that became law on October 1, 1890. The tariff raised the average duty on imports to almost fifty per cent, an act designed to protect domestic industries from foreign competition] – that I brought that subject on the carpet.
"Pshaw," said he. "This is all nonsense; if the United States want to tax themselves to death, why should we care? It looks to me that you are the parties injured, and not us."
And that is the truth about the matter.
The talk about England's distress over our tariff laws or England's striving to break down our industries is the worst kind of rot.
If we can stand a 60 per cent tariff tax England can.
It is very much like a man's cutting off his nose to spite his face.
THE DANGERS OF WHITECHAPEL
When I mentioned to this gentleman about the dangers of Whitechapel he burst out laughing.
"Whitechapel," said he, "is as safe as Westminster."
"But Jack the Ripper!" rejoined I.
"As to Jack the Ripper," was the reply, "he is a crazy man who has not yet been caught.
We might as well accuse the Americans of being a race of bandits because Lincoln and Garfield were assassinated.
Whitechapel and Clerkenwell in fact, East London generally, is the home of our work-people, who are as orderly and quiet as the dwellers in Kensington."
THE CHRISTIAN HEATHEN
"But," said I, "there are 800,000 Christian heathen in the East End of London."
"And how many Christian heathen are there in Chicago, or in New York City?"
FROM ALDGATE TO WHITECHAPEL ROAD
By this time we were in Aldgate – a dirty and fishy place – and my friend left me.
A few moments more brought me into the famous Whitechapel Road – I must say that beyond an excess of cheap and second-hand stores. and a vast acreage of inferior, grimy houses there was nothing about it to excite suspicion.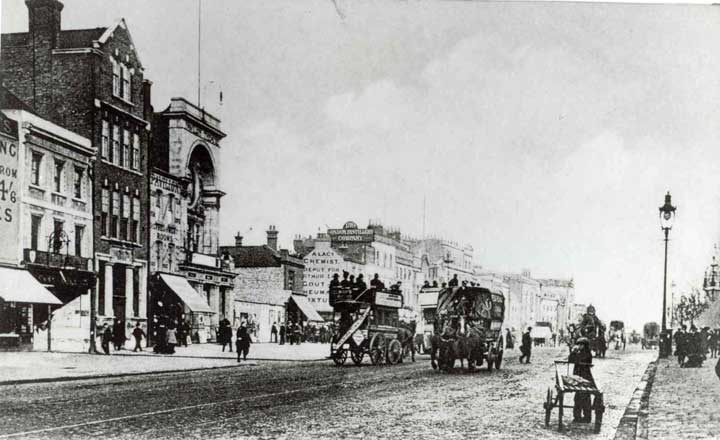 ROBERT ELSMERE AND TOYNBEE HALL
Of course, the first thing I thought of was Toynbee Hall and the People's Palace – vividly suggested by the novel "Robert Elsmere," that had such an enormous sale a couple of years ago. [This was a novel written by Mrs. Humphry Ward, which was published in 1888.]
Toynbee Hall is a sort of Episcopal church monastery where young religious enthusiasts – graduates of Oxford – and who wish to take vows of poverty and obedience and to work among the poor – do mostly congregate in London.
I am not sure but that its founder, Arnold Toynbee, who died at the early age of thirty-three, is not the original of Robert Elsmere.
THE GREAT PEOPLE'S PALACE
The great People's Palace – which is situated in the Center of Whitechapel – owes its birth to the novelist, Walter Besant, and to his celebrated book, "All Sorts and Conditions of Men." It is certainly a most interesting place, not yet over five years old.
Over a million dollars has been spent in creating a great and practically free educational school for the Whitechapel poor.
The first thing that attracted my attention was a prodigious splashing and shouting.
Entering a great building, I found five hundred young savages in swimming. For a penny, a boy is furnished a bathing dress of the most abbreviated pattern and all the swimming that his little hide will hold. Upon the other side of the enclosure is a big gymnasium where boys who prefer to keen dry can, for a penny, have all the gymnastics they like. Between the two buildings is a gigantic free reading-room and library.
I spent an hour in it and carefully examined its catalogue, and found a very large collection of the very best popular books.
Now, all Whitechapel can read their fill at a charge of one penny a day.
ONE OF LONDON'S BEST ART GALLERIES
But the best of the People's Palace remains to be told, and that is one of the very best art galleries in London.
Here are five hundred paintings of the very highest order of merit.
Where did they come from?
Strange to say, from the royal family and the great noblemen of England – as well as from the wealthy corporations – who all freely loan of their treasures for the art education of the workingmen of East London.
Before me is a catalogue of the collection, and among those loaning, I notice the Prince of Wales, the Marquis of Westminster and the Kensington Institute.
These pictures are all hung in a grand room in which is a splendid organ – and all for the ridiculously small fee of 4 cents admittance.
CLASSROOMS AND LECTURES
Nor is this all.
There are at least thirty class and lecture rooms under this same roof, where for 10 cents a week any Whitechapel boy or girl, man or woman, can have high-grade instruction in a very wide range of practical subjects.
Before me is a pamphlet describing the various courses.
For the boys there are practical lessons in carpentry and joining, bricklaying, machine work and all the leading industries; and for girls equally thorough courses in dressmaking, millinery, cookery, etc.
For both sexes, there are courses in photography, telegraphy, bookkeeping, and, curiously enough, what they call civil service.
NO BOY OR GIRL TURNED AWAY
The secretary of the Palace told me that, while it is true the charge was 10 cents a week for instruction, no poor boy or girl has ever been turned away that desired to learn any trade or any of the forty branches taught.
More than this, there is connected with the Palace a magnificent greenhouse which is soon to be opened free to all the students of the school.
A GRAND AFFAIR
It is a grand affair costing over one hundred thousand dollars.
And, to make the charity complete, there is a very large dining-room where, at a merely nominal cost, the students attending can get a plain, nourishing meal.
This great institution is in the same line with George Peabody's lodging houses for the London poor.
The limit of this letter will not permit me to make any comments.
Suffice it to say that I came away from Whitechapel and its People's Palace with new conceptions of English practical charity, and of what means that scripture – "Unto the poor the gospel is preached."
D. P. Baldwin"