Catherine Eddowes, murdered on 30th September 1888, was the fourth victim of Jack the Ripper.
Her murder is of interest for several reasons, not least of which is the fact that she was murdered in the City of London, meaning that a second police force, The City of London Police, became actively and officially involved in the hunt for the Whitechapel Murderer.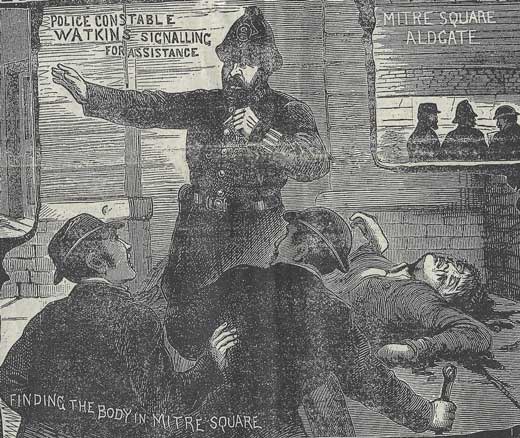 For this, the latest in our series of quizzes on the crimes, we have devised a series of 10 questions related to people and locations connected to her murder..
As with all the quizzes, you have 10 questions to answer, some of them are multiple choice whilst others simply require you to decide whether a statement made in the question is true or false. The question is, how many of them will you answer correctly?
If you've done our quizzes before, then you might prefer to bypass this preamble and, instead, head down to the foot of the page and get stuck in to the quiz as quickly as possible.
HOW TO DO THE QUIZ
To start the quiz just type your name into the box at the foot of the page and press start. The ten questions will then be presented to you one at a time.
You don't even have to use your own name – an alias will do – so you can type any name of your choice into the box to get started. The reason we ask your name is so that we can put it on the certificate that we award you at the end of the quiz!
The certificate, which is given by our esteemed Department of Ripperology will have on it the name you use plus the score you manage to achieve. You get the certificate no matter high – or low(!) your final score.
If, for any reason, you encounter any problems when starting the quiz, just scroll down to the foot of the page and click the white text link that reads "The Catherine Eddowes Murder Quiz." This will take you directly to the quiz.
As ever, we'd love to see how you did, so please feel free to share your certificate on our Facebook page.
When you feel that you are ready to start, simply put your name into the box below, take a deep breath,  and see how many of the questions you can get right.
Best of luck.
ONCE AGAIN, IF YOU HAVE ANY PROBLEMS STARTING THE QUIZ, SIMPLY SCROLL TO THE BOTTOM OF THE PAGE AND CLICK ON THE CATHERINE EDDOWES MURDER QUIZ WHITE TEXT LINK.