Tomorrow sees the 125th anniversary of the start Jack the Ripper murders.
Despite the fact that there had already been two murders in the area prior to the murder of Mary Nichols, whose body was found in Buck's Row, Whitechapel, at 3.40am on August 31st 1888, the general consensus amongst experts on the case is that Mary was the first true victim of Jack the Ripper.
Here's what Bucks' Row looked like at the time of the murder.
Of course, at the time people didn't realise that this was the start of history's most famous killing spree.
We know today that in the gutter in Buck's Row, the killer whom history now remembers as Jack the Ripper claimed his first victim.
Today a Cross Rail Station is being built on the site opposite where her body was found and the area has changed almost beyond recognition.
Even the name of the street has changed.
Apparently, the local residents were ashamed of the notoriety the murder gave them and they petitioned the local council to change the name to what it is today – Durward Street.
Here's a photograph of Durward Street in the 1960's when it still looked, more or less, as it did at the time of the murder.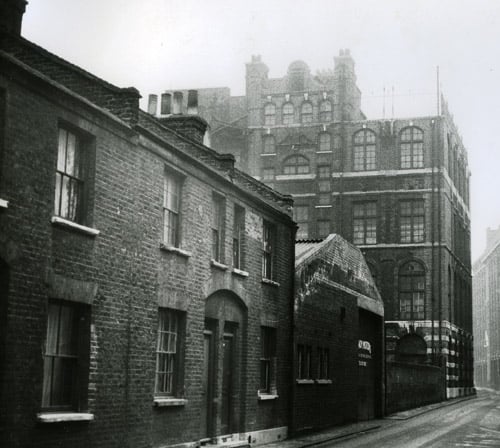 Yet one building has survived to link our age with that of Jack the Ripper's. For in the background of the photo you can see a large building with railings on its upper storey.
This is the old Board School (the railings actually enclosed the roof top playground where the children of the school used to play!)
The Board School is now flats and here is that same building as it looks today.
Over the next few weeks we will be taking a close look at the various sites that, between August 31st and November 9th 1888, gained a gruesome notoriety as the locations in the World's most infamous murder spree.