There are many reasons to remember Sir Edward Henry (1850-1931) and his tenure as Metropolitan Police Commissioner, which lasted from 1903 to 1918.
It was, for example during his Commission, that police dogs were introduced. He also introduced the use of typewriters at New Scotland Yard, the headquarters of the Metropolitan Police.
PIONEER OF FINGERPRINTING
But, it is for the championing of, and introduction of fingerprinting as a valid means of crime investigation for the Metropolitan Police, that he is best remembered.
This innovation came thirteen years too late to be of any assistance to the intrepid officers and detectives who hunted Jack the Ripper on the streets of Whitechapel and Spitalfields during the so-called autumn of terror.
Indeed, when people discuss the problems that afflicted the police investigation into the Whitechapel Murders of 1888 to 1891, one of the points that is often made is that fingerprinting was not an established part of police investigative procedure at the time of the crimes.
Whether, or not, the use fingerprinting would have helped the Victorian detectives in their hunt for Jack the Ripper is now a matter of conjecture since the crimes themselves pre-dated the arrival at the "Yard"  of the man who would pioneer their usage as a means of solving crimes.
BECOMES ASSISTANT POLICE COMMISSIONER
In 1901 Sir Edward Henry was recalled to Britain from South Africa to take up the post of Assistant Commissioner (Crime) at New Scotland Yard, in which capacity he was put in charge of the Criminal Investigation Department or CID.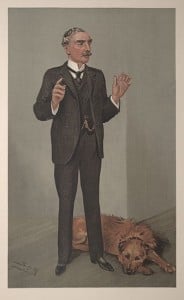 On 1st July 1901 he established the Metropolitan Police Fingerprint Bureau – not, it should be noted, as a means of tracking down criminals and solving crimes, but rather as a means of preventing perpetrators of criminal acts from disguising previous convictions from the police, courts and prisons.
However, in 1902, fingerprint evidence was used in the successful conviction of burglar Harry Jackson, and it soon became an established weapon in the CID's crime-busting arsenal.
By 1911, the Metropolitan Police's index of fingerprints numbered some 250,000.
The introduction of fingerprinting would, most certainly, be a pivotal moment in the history of Scotland Yard's fight against crime and it wasn't long before Sir Edward Henry was being lined up for the role of Britain's top police officer.
IS MADE METROPOLITAN POLICE COMMISSIONER
In 1903 Henry was appointed Metropolitan Police Commissioner, in which capacity he is credited with dragging the force out of the Victorian era and into the modern age.
He also continued to innovate and was instrumental in the introduction of telephones to all divisional police stations, the standardization of the use of the iconic police boxes and the introduction of proper training for all new recruits.
So numerous were his achievements and innovations that he is remembered as one of the great Metropolitan Police Commissioners.
But, for all his brilliance as head of one of the World's most famous and respected police forces, Sir Edward Henry possessed a remarkable ability to show forgiveness and kindness, even to a criminal who almost killed him.
Indeed, his ability to forgive a man whose actions left him in constant pain throughout the latter years of his life bordered on saintliness.
ASSASSINATION ATTEMPT
On Wednesday 27th November 1912, Sir Edward was at his house at 19 Sheffield Terrace in Kensington when there came a knock at the front door.
Opening the door, he found himself face to face with a gunman who promptly fired three shots at him. Two missed, but the third penetrated Sir Edward's abdomen.
At this point, the gunman was tackled and wrestled to the ground by the Commissioner's chauffeur and was soon taken into police custody.
It transpired that the would-be assassin was a man by the name of Alfred (some accounts also give his name as "Albert") Bowes, a disgruntled tax-driver whose application for a cab driver's licence had been turned down.
Fortunately, the bullet had missed Henry's vital organs, although the damage proved long lasting and Sir Edward would suffer recurrent pain from the resultant wound for the rest of his life.
PLEADS FOR LENIENCY FOR HIS ATTACKER
But, when Bowes appeared in court, Sir Edward Henry appeared and pleaded for leniency for his attacker stating that he had only wanted to improve his station in life to enable him to earn a decent enough living to provide for his widowed mother.
As a direct result of the Commissioner's intervention, the life-sentence that Bowes was facing was reduced to fifteen years in prison.
More remarkable still, Henry continued to take an interest in the fate of his would-be murderer and, when Bowes was released from prison in 1922, Sir Edward paid for his passage to Canada to enable him to make a fresh start and begin a new life.