One of the most poignant locations on your Jack the Riper tour is when we stand outside the Indian restaurant that stands at the junction of Brick Lane and Thrawl Street.
The guide draws the groups attention to the brick gable that surmounts the building and points out the two crossed frying pans that still adorn it. On closer inspection they can even pick out the letters "Ye Frying Pan" emblazoned across it.
A LINK WITH JACK THE RIPPER'S LONDON
And, suddenly, the groups have found a direct connection between our age and that of the ripper. For, it was in this building, when it was a pub, that Mary Nichols, the first of the victims of Jack the Ripper, drank away her doss money in the early hours of the 31st August 1888.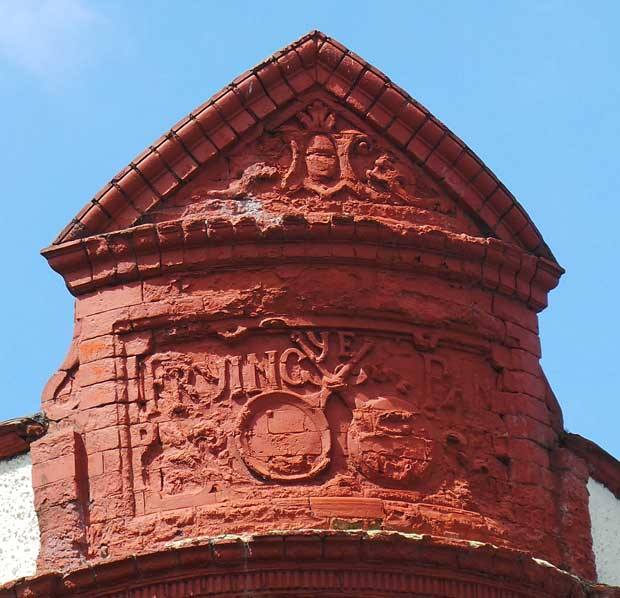 THINGS YOU MIGHT MISS
It is little moments like these that make our tour such an eerie, and poignant, experience for our clients. Indeed, many of them comment that, were it not for their guide pointing it out to them on the walk, they would probably walk straight past this wonderful throw back to the bygone East End and miss it – as many people do not look up when they are walking through London.
ALWAYS LOOK UP
Yet, to walk around London with your eyes fixed at ground level, is to miss so many of the treasures, and the surprises, that often lurk on the upper storeys of buildings.
For, it's here, up on the gables, rooftops and walls of offices, shops and houses, that remnants of the past lurk. But, because they are up there, they are so easily missed.
WE'LL GET YOU TO SEE LONDON
And that's what our tours are all about.
There are so many buildings around London that, just like this former pub, have surprises such as the two crossed frying pans hiding in plain view. Our job, as guides, is to alert you to them, to ensure that you don't miss them and that you leave the tour having, not just learnt the full Jack the Ripper story, but also having encountered and discovered remnants of the past that connect our age to that of the ripper.