Arthur George Frederick Griffiths (1838 – 1908), was a British military officer, prison administrator and author who published more than 60 books.
His writings were, to say the least, sensationalist, and his books on crime and criminals found an eager audience amongst a Victorian public that delighted in salacious details od sensational crimes.
Griffiths was a personal friend of both Robert Anderson and Melville Macnaghten, both of whom shared information with him about their suspicions on the identity of Jack the Ripper.
HIS 1898 BOOK
In 1898, he used the information they had provided him with for his book Mysteries of Police and Crime, part of which dealt with the known facts concerning what had actually happened to Jack the Ripper and, in so doing, he became the first person to publicly describe  – but not name – the three suspects for the Whitechapel murders named in Macnaghten's Memorandum of 1894.
Many newspapers reviewed his new offering, and many of those reviews focussed on his revelations about the fate and the possible identity of the Whitechapel murderer.
One such review appeared in the St James's Gazette on Friday, 16th  December, 1898:-
The review read:-
MYSTERIES OF POLICE AND CRIME
MAJOR ARTHUR GRIFFITHS'S NEW BOOK
"Major Arthur Griffiths has long made a speciality of criminal history and his position as a prison official has helped him to accumulate a vast amount of curious lore which makes excellent reading.
His very latest book on this subject, Mysteries of Police and Crime (Cassell), is a kind of modern edition of the Newgate Calendar, since it deals with most of the crimes which have attracted general attention for generations back.
A more interesting book we have not come across for a long time; wherever one opens it there is some well-told story of evil-doing.
Many of these instances are so modern as to be still well-remembered; while others will be new even to many who have made some study of these matters.
These two closely printed volumes are, indeed, almost a cyclopaedia of famous crimes.
Where there is so much that is attractive it is exceedingly difficult to pick out extracts. The only thing to be done, indeed, is to put in one's thumb and pull out a plum at a venture.
WHAT BECAME OF JACK THE RIPPER?
There is, however, one passage, relating to the Whitechapel murders of a decade ago, which is so striking that no reviewer can fail to draw attention to it:-
"The outside public may think that the identity of "Jack the Ripper" was never revealed.
So far as actual knowledge goes, this is undoubtedly true.
But the police, after the last murder, had brought their investigations to a point of strongly suspecting several persons, all of them known to be homicidal lunatics, and against three of these they held very plausible and reasonable grounds of suspicion.
Concerning two of them, the case was weak, although it was based on certain colourable facts.
HOMICIDAL TENDENCIES
One was a Polish Jew, a known lunatic, who was at large in the district of Whitechapel at the time of the murder, and who, having afterwards developed homicidal tendencies, was confined in an asylum.
This man was said to resemble the murderer by the one person who got a glimpse of him – the police constable in Mitre-court.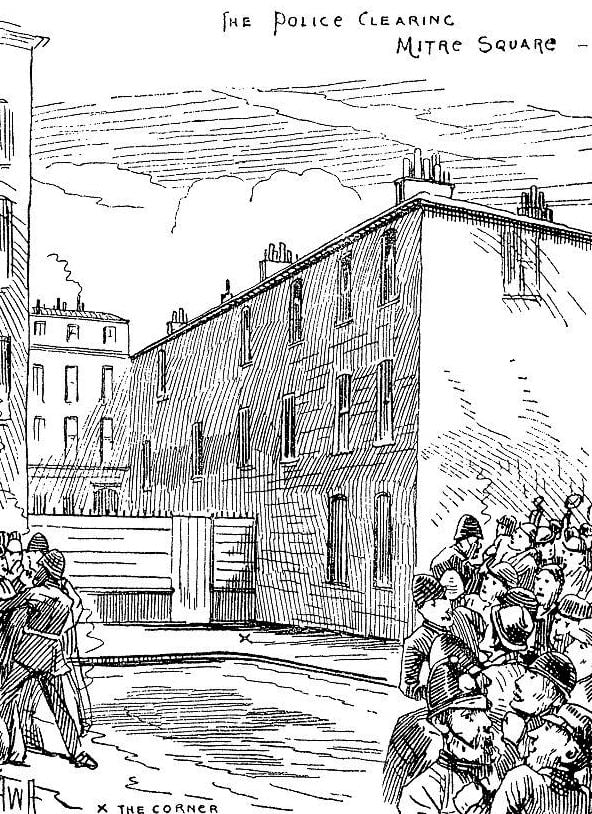 THE RUSSIAN DOCTOR
The second possible criminal was a Russian doctor, insane, who had been a convict both in England and Siberia.
This man was in the habit of carrying about surgical knives and instruments in his pockets; his antecedents were of the very worst, and, at the time of the Whitechapel murders, he was hiding, or, at least, his whereabouts were never exactly known.
STRONGER SUSPICION
The third person was of the same type, but the suspicion in his case was stronger, and there was every reason to believe that his own friends entertained grave doubts about him.
He also was a doctor in the prime of life, was believed to be insane or on the borderland of insanity, and he disappeared immediately after the last murder, that in Miller's-court, on the 9th of November, 1888.
On the last day of that year, seven weeks later, his body was found floating in the Thames, and was said to have been in the water a month.
The theory, in this case, was that, after his last exploit, which was the most fiendish of all, his brain entirely gave way, and he became furiously insane and committed suicide.
DIED OR PUT UNDER RESTRAINT
It is at least a strong presumption that "Jack the Ripper" died or was put under restraint after the Miller's court affair, which ended, this series of crimes."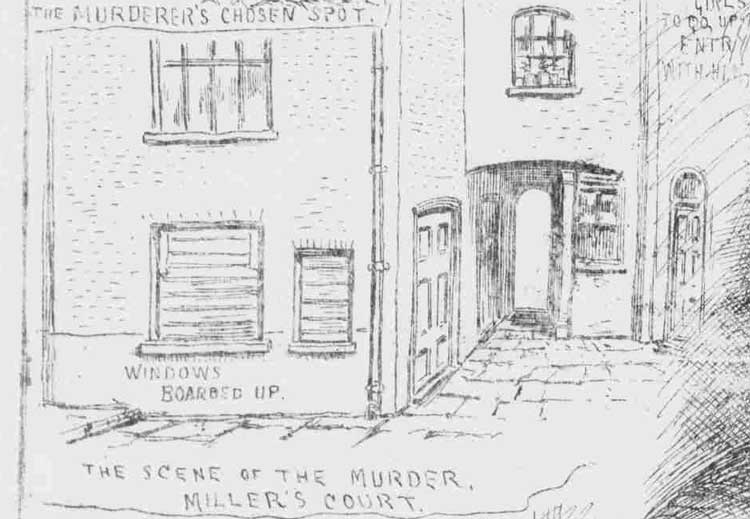 IS IT EASY TO DISAPPEAR?
In another section, the review featured the Major's opinion on how easy it actually was for somebody to disappear:-
"While sustaining the thesis that the shrinkage of the world caused by the telegraph makes it very difficult for anybody to disappear utterly, Griffiths admits that it is possible to hold another view:-
A well-known police officer once assured me that he could easily and effectually efface himself, given certain conditions, such as the possession of sufficient funds (and not of tainted origin that might draw down suspicion), or the knowledge of some honest wage-earning handicraft, or fluency in some foreign language, and, above all, a face and features not easily recognizable.
Backed by any of these, he declared, he could hide completely in the East-end or in the Western Hebrides or South provincial France or some Spanish mountain town.
In proof of this he declared that he had lived for many months in an obscure French village and, being well acquainted with French, he passed quite unknown while watching for someone; and he strengthened his argument by quoting the case of the heroine of a recent robbery of pearls, who baffled pursuit for months, and gave herself up voluntarily in the end."