It is an intriguing, not to say fascinating, past time to plough through the 19th century newspapers looking for fresh snippets of information on the Jack the Ripper case. Sometimes you encounter a location that was connected to the murders and get to see it from a different perspective. At other times you catch a glimpse of  a name that  you've seen time and time again in relation to the crimes, but you see that person involved in a different case or aspect of the case.
This is particularity so with the various detectives who pitted their wits against the unknown miscreant who was bringing chaos to the streets of East London throughout the autumn months of 1888.
RIPPER HUNTER SERGEANT WILLIAM THICKE
One of the names that turns up time and time again in the 19th century newspaper coverage of the Whitechapel murders is that of Detective Sergeant William Thick (sometimes spelt Thicke).
An experienced police officer, he had a reputation for taking no nonsense from the criminal fraternity of the East End of London.
So much so that his nickname in the area was Johnny Upright! In a previous article we looked at an arrest that he made on Commercial Street which, most certainly, shows that he was not a police officer to be trifled with. You can read the article via this link.
He was also the officer who insisted that John Pizer was the man known locally as Leather Apron and, as a result, he was the officer who got to arrest Pizer in September 1888 in the immediate aftermath of the murder of Annie Chapman. Unfortunately Pizer had cast iron alibis for the nights of the most recent murders and was quickly ruled out as a suspect.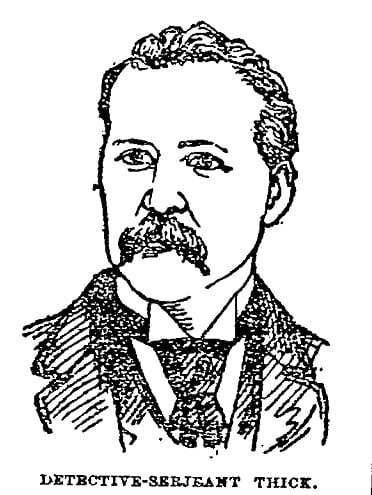 Over the last few months we have been looking at other cases that the police officers who investigated Jack the Ripper worked on, both before and after the 1888 Whitechapl Murders, as this provides a terrific insight into their professional careers and into their personalities and characters.
To that end, we bring you today several newspaper clippings of the cases that Sergeant Thick worked on.
So, without further ado, here are a few of those press cuttings. Hope you enjoy them.
CASES PRIOR TO THE JACK THE RIPPER MURDERS
PRIZE FIGHTERS IN COURT
In this case Sergeant Thicke had been instrumental in breaking up a prize fight and was reported giving evidence against the pugilists in court.
ALLEGED DRUGGING AND THEFT AT A CLUB
Another case he was involved in was when a man had been taken to a house by another and drugged in order that he could be robbed.
CASES AFTER THE JACK THE RIPPER MURDERS
THE DASTARDLY WHOLESALE TEA ROBBERY
In a dastardly robbery of 18 chests of tea in 1891, Thicke was singled out for mention from the magistrate at the subsequent court case for having recovered stolen jewellery.
THE GREAT ROBBERY AT LONDON BRIDGE
Sergeant Thicke's name also crops up in press reports in a case that was heard at Southwark Police-court in 1891.
ATTEMPTED MURDER OF A DAUGHTER
A later case in 1891 must have well and truly turned Thicke's stomach when a man by the name of William Brogan murdered his nine-year-old daughter and then attempted to commit suicide.
MORE WILL FOLLOW
So there you have a basic round up of the cases outside of the Jack the Ripper murders that Sergeant Thicke as involved in during his illustrious career.
I have always thought that, by just looking at the officers through their involvement with investigating the Jack the Ripper murders we are restricting ourselves to a fairly one-dimensional view of them.
I will continue to post press clippings about them as and when I find them. Who knows, there is even the possibility that, in the course of a later arrest, they may even have caught the ripper and not realised it! How's that for a bizarre and intriguing thought?